How did my plan (Race Tatic) worked out for my first Ultra Trail run. Find out in the following race report for the Ultra Trail Australia 50 km.
Compulsory Race Briefing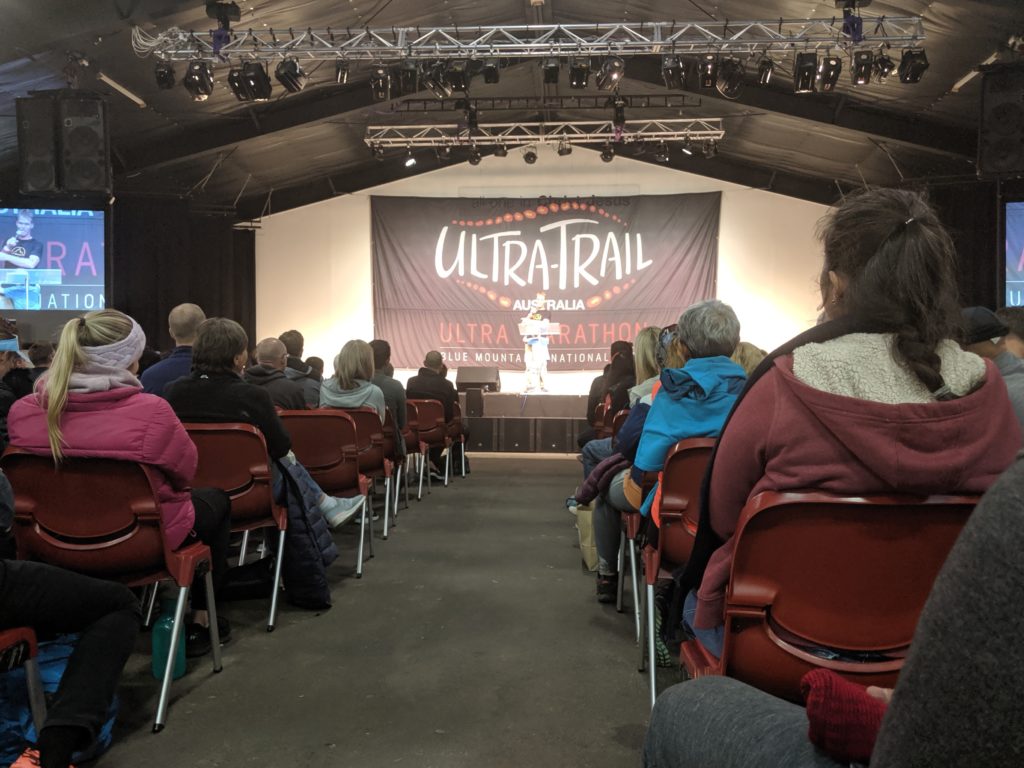 The race briefing was on the afternoon before the race. It started with a general introduction from Alina, followed by a Aboriginal performance and explanation of the cultural significant of the land around Katoomba.
National Park member Cameron Chaffey, who was running the 100 km, explained the importance of the World Heritage Area of the Blue Mountains and how we, as runners, could help to keep it clean and tidy.
The event safety and medical coordinator Lucas Trihey gave then some insight about the problems runners might face. And here was the first lesson I learned and a change of my race tactic. I planned to drink a sip every kilometer, but that is not advisable, because over drinking is the most common problem runners face and then end up in hospital because of water intoxication. Here are his three simple rules.
Don't drink to a schedule
Drink if you are thirty
Don't "pre-load"
The second issue he addressed was the use of drugs with paracetamol, which I very rarely use. They can have sight effects on the kidneys and the kidneys already have to work hard to filter all the blood on a long race like this.
Finally Tom, the race director, came onto stage to give the latest information on the weather forecast (17°C and sunny all day) and for the mandatory gear (no high vis vest). He highlighted two sections where 50 km and 100 km runners have to take an other direction, showed the direction markings on the trail, thanked everybody and finally wished everyone good luck and a enjoy full race day.
Start Group 5
Due to my last half marathon time 1h55min, I was set for start Group 5 from 7. This was alright for me and the expected finishing times for this start Group are between 8h17min and 8h48min.
The Start Phase
I was really surprised by the disciplined speed nearly everyone took. On the slightest hill everyone was walking, me too. It would have been easy to run up those little hills, but I would have to pay the price later. Anyway the plan was to keep my heart rate near 130 bpm. This didn't work out, because even when walking up a hill my heart rate was higher. Around 140 bpm and when running more at 150+ bpm. My best guess is that because of the higher altitude, Katoomba is at around 1000 m, my heart had to speed up to get the same mount of oxygen through than at sea level. So what did I do? I stopped staring at the heart rate and started listening to my body and calmed down my brains self talk, that I was going to slow. Finally I started to enjoy the breathtaking views from the escarpment into the big valley.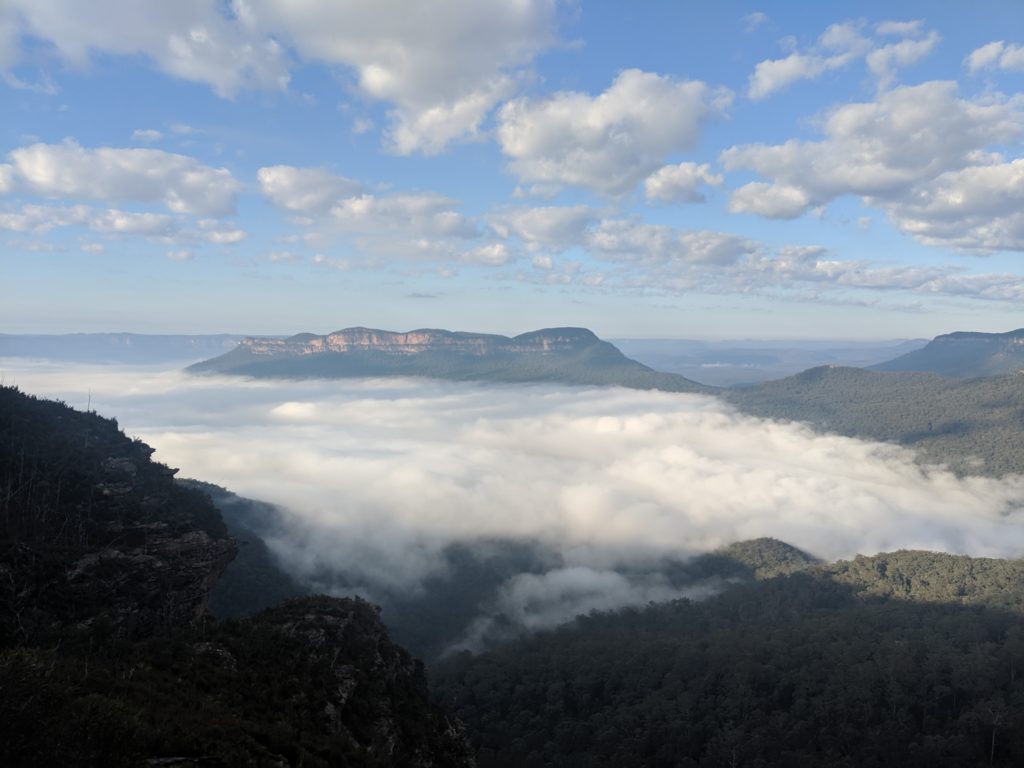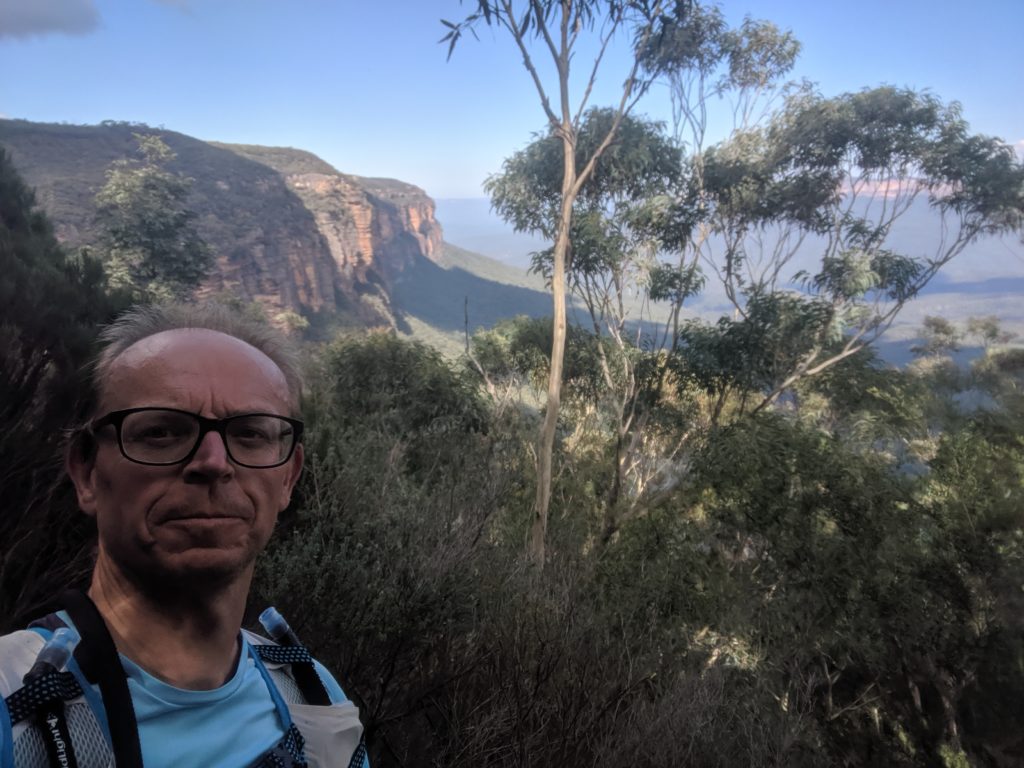 Stair Phase
After this first easy phase, I approached the Giant Stairway after around 9 km and the a little congestion marked their start. They are very step and narrow. No way to overtake someone. Anyway it was filled with runners, so no way to push things here. And from now on I was in stair heaven. It went down and up and down and up. All kind of stair types. Steel, wood, stone you name it. I made really slow progress here, but stuck to my plan to shake my fatigue out of my body on every downstairs section. And it worked surprisingly well. More or less this phase lasted up until the first aid station at 17.2 km.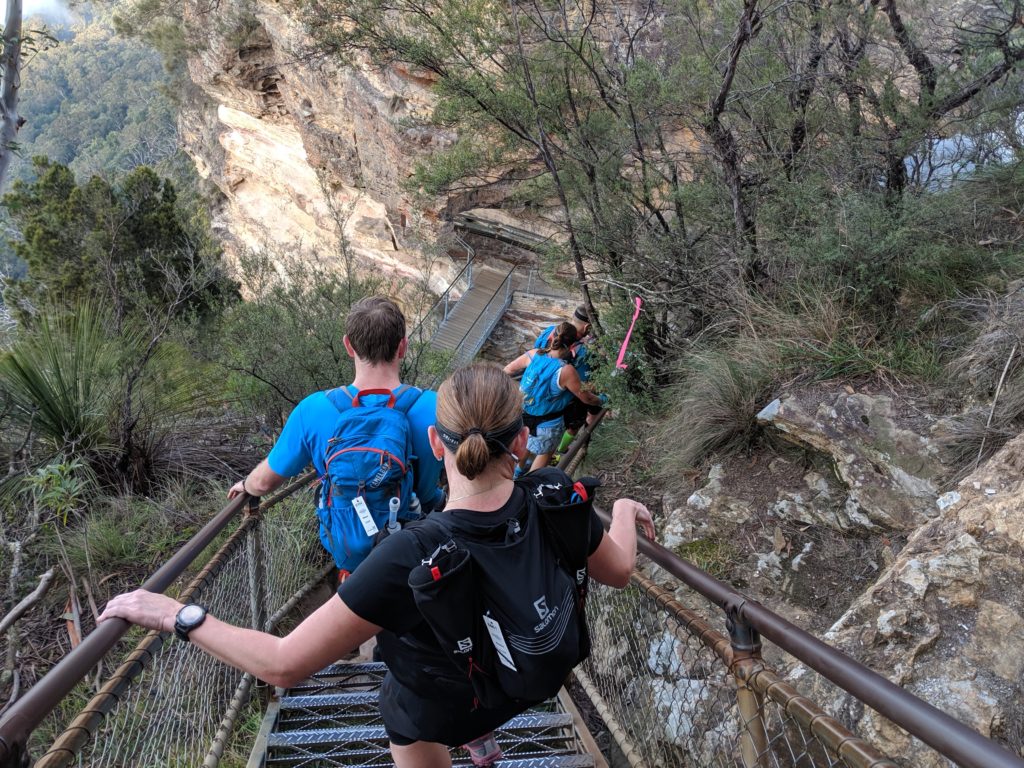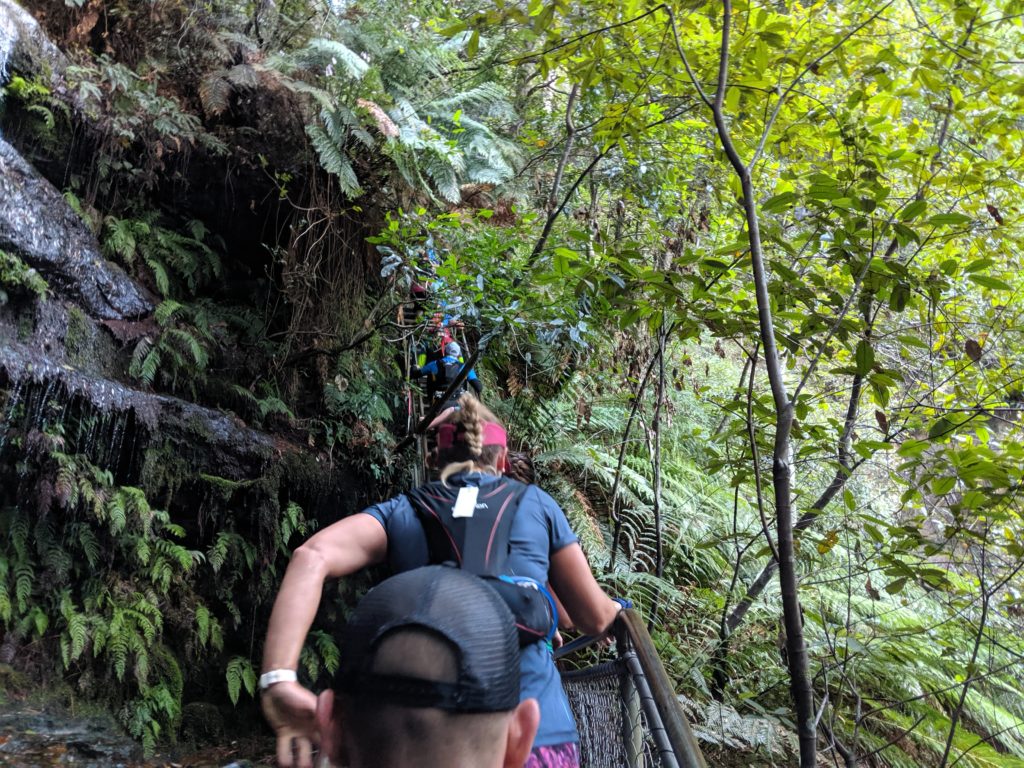 First Aid Station at 17.2 km
I still had plenty of water in my two bottles and my bladder. So I just grabbed some chips and off I was. So far I had eaten one of my muesli bars and still felt good. Anyway there was not much more on this aid station to get.
Undulating Terrain
The course was then quite diversified. Running on paved roads, on unpaved roads, single trail over rocky terrain, going down in some small gullies, some stairs, bigger trails through forest, from everything something. Always a little bit up and down, but I could more or less run everything on this section. I had one little moment where I was more concentrated on eating my muesli bar than in the path and promptly I felt over a rock straight onto the floor. Straight away two runners were at my side and helped me up. Luckily I was unharmed and could continue my run.
Second Aid Station at 28.2 km
I was looking forward to this aid station, because my water supply was running low and I wanted to eat some fresh food. Luckily there were still plenty of bananas, watermelons, mandarins, gummy bears, chips and gels, which I didn't eat. After a short feast I wanted to refill my two bottles, but couldn't open one. My hands were humid and slippery. I tried my best, but failed. It needed two volunteers to finally open the bottle and after a eternity I had everything refilled and could run again. It sounds more stressful than it was. I had quite a good laugh with the crew and was finally grateful for the additional rest.
The Big Descent
On the way to the aid station I was already running on a fire trail road and this road goes down to the foot of the escarpment. At around 30 km the big descent into the valley starts for 6 km and as I had planned, if I still feel good, I will run as fast as possible down to the bottom. Fast is relative, but a least I could do 6 min/km. I passed a lot of runners which drove up my mood . Not that I felt bad, but overtaking feels always better than been overtaken. I managed even to loosen up some tension in my neck, which was good too. 
The Wall
All this came to a sudden stop when I crossed Jamison Creek. Still 12 km to go and there was this wall between me and the finish line. Nobody was running at this time any more. Everyone was just hiking up. Silently grinding along beside each other. Some encouragement for people with cramps. Some "are you alright" , "thanks fellow, no worries". On the very rare flatter 50 m section I started to jog, but had to walk sooner than I wanted to. So my plan not to walk to the finish line was pulverized. No worries.
Third Aid Station 42.2 km
On the last sections I had eaten two muesli bars and drank a little bit more water, because in the valley it was a lot warmer than at the top of the escarpment. So I was really looking forward to the aid station. Only water, chips and gummy bears were available, but this was enough for me. This time I could open my bottle and after a minute I was gone. And now I started to think that I could make it under 8h. This motivated me to go on.
To the Bottom of the Escarpment
The terrain good flatter and I could run more and more. At around 45 km I had a little shock moment when I felt a cramp coming up on the inside of my thighs. I slowed down and tried to shake it out, which eventually helped. The fire trail road ended and became a single trail again. I was at the end of a group of five runners and their pace was just right for me. Now it felt again like real trail running. Little bit up and down, over rocks, roots, little streams, through thick forest and in no time we arrived at the last obstacle. Still 1 km to the finish line and as you probably guessed, again stairs.
Furber Steps
The best at the end. 951 steps, 200 m elevation gain after 49 km and 2200 m elevation gain. Sounds like fun. Luckily there were a couple of things which helped me to come up. First, I remembered the one leg man who did the UTA 22 the day before with crutches. Unbelievable how he did it. Second I was still in the little group and wanted to stay with them. Third, their are handrails, rocks, netting wire were I could pull myself up and last but not least there is the cheering crowd at the top, waiting for the finishers. So I was gritting my teeth and finishing it up. And I did it in 7h46min.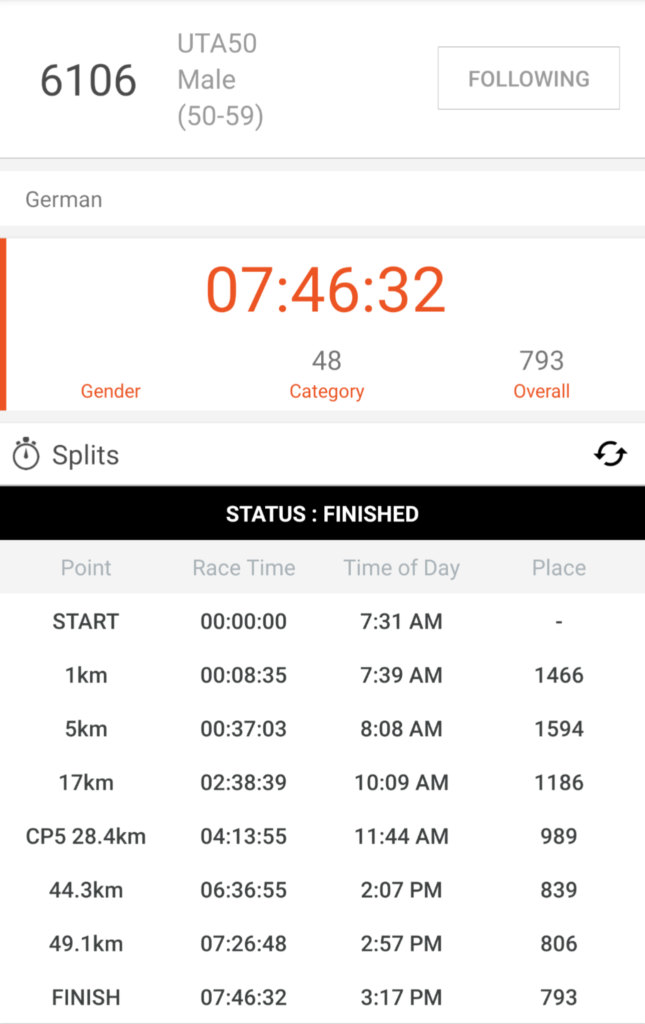 Summery
As you can see from the split times I really started slow and continuously made some ground on the way to the finish line. But this was more due to the slowdown of the other runners, than on me going faster. I'm glad that my race tactic worked out so well. Another reason for this was the good preparation I had with TrainAsOne. Apart from my preparation and plan the event was very well organized and the course is spectacular. Thanks to all the people who make things like this possible.
So what did I take with me after the race?
drink when thirsty
no food experiments on race day
do the homework, which means, training properly for an event like this
having patience, all the time
taking some time to enjoy the spectacular views
lovely people who look after each other
beautiful trail running moments
the satisfaction that I did it
Will I do something like this again? For sure 😉