Traveling, Running and Surfing in Morocco
This year I had four weeks holidays and was traveling with my family and our beloved camper van to Morocco. We wanted to see and experience something different from Europe.
The Journey to Morocco
From our place (Constance) it's roughly 2300 km (1426 miles) to Tangier plus a ferry crossing (1h) from South Spain to North Africa. So we decided to do it differently. We drove to South France (800 km ~ 500 miles) and then with the ferry (40h) to Morocco. It was clear that it will be impossible to run in this time, but with TrainAsOne no problem. I just paused my plan for 3 days and everything was adjusted by the system. The first surprise when arrived at the ferry was, that we were the only ones with a camper van. The second surprise was that there was only one other couple from Germany with a motorcycle on the boat. The rest were all Moroccans which live in Europe and went home to visit family or make holidays at "home".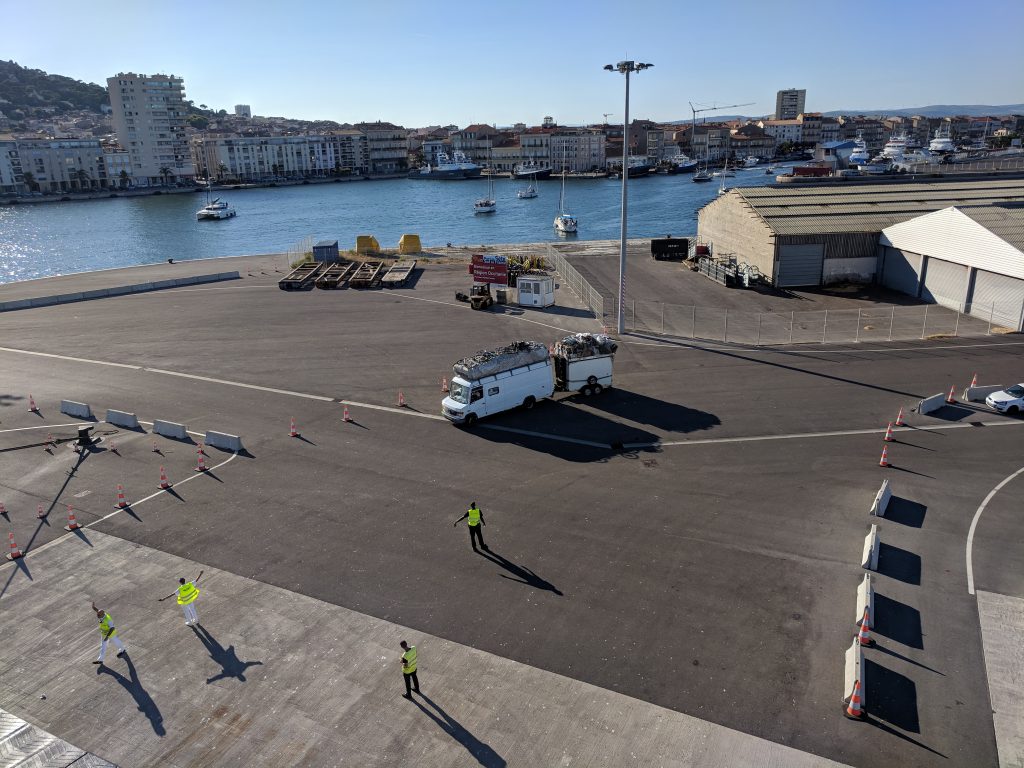 On the ferry there were two officials from the Moroccan government for the immigration formalities. One was responsible for the cars and the other for the passports. With more than 2000 people on board it was clear that it will take some time to get the formalities straight. After four hours in the queue I knew much more about Morocco than I would have learned from a Lonely Planet guide. That was entertaining. Standing in line was one of our favorite occupation on this ferry trip. Dinner, breakfast, lunch, dinner and breakfast again, everywhere queues. This was a good opportunity to learn patience, especially for my two always hungry boys. Apart from the queuing "stress" the rest of the boat trip was relaxing with a flat Mediterranean Sea.
Finally we made it to the harbor and were curious how it will be in Morocco. After a short stop at the customs we wanted to drive off, but around the corner was the next queue. This time INWI, one of the major Marrocan telecommunication companies had maybe 30 people on the road to sell their SIM cards. Faster than I could think it through, my mobile was fitted with a new SIM card and everything was activated in no time. We were already pointed to the fact that the Moroccans are persistent sellers, but this was really surprising. Anyway I wanted to buy a SIM card, so no problem and the price was okay. 20€ for 20GB internet was alright.
Running in Morocco
The main purpose of this journey was to visit cities and stay close to the beaches of the Atlantic Ocean to surf. But my training plan from TrainAsOne continued more or less normally. More or less because I had to pause the plan for the journey to Morocco and back home. But this worked smoothly. The running itself was tough. The reasons:
Most of the time I had to run on the roadsides with all kind of traffic. Pedestrians (not dangerous), dogs (very lazy), donkey carts, bicycles, motorbikes, cars, buses, trucks and kamikaze taxis (most dangerous)
On the roadsides it was in the best case only dusty, in the worst case there were stones and running became more of a stumbling. To not twist my ankle, full concentration was necessary.
It was hot, even in the morning. Okay my fault. I slept in.
On some days, especially on the coast, there was a heavy fog and it was so humid that I had problems with breathing
What I realized back at home is, that the air in Morocco is much more polluted than here in my hometown. Specifically on busier roadsides. Dust and emissions are much higher. I can breath here much more easily.
With the heat came another problem. Air conditioning. This has nothing to do with running, but I caught a cold because of that and had to stop my training for nearly a week.
All this doesn't sound too good. But actually I enjoyed the running. It was a challenge. I really had to concentrate and I had the full attention from the locals, because I was the only one running around. In addition nearly everyone greeted me which rarely happens here in Germany. I liked that. In general the people in Morocco are very friendly, which is nice.
In the heartland and especially in the Atlas mountains there must be some really got running trails, but we didn't really went there. Maybe another time.
One thing which bothered me at the beginning was, I forgot the charging cable for my Garmin Forerunner 735XT. I was so sure that I had packed it somewhere. But even after several fierce searches and driving my family crazy, I couldn't find it. And what's a tech gadget good for with a empty battery? Right for nothing. It's so light it isn't even good as paperweight. After thinking the situation through I calmed down and downloaded the Endomondo App. With the sync service Tapiriik it was than possible to get my runs from Endomondo to the Garmin Connect side and from there to TrainAsOne all full automatic. Nice.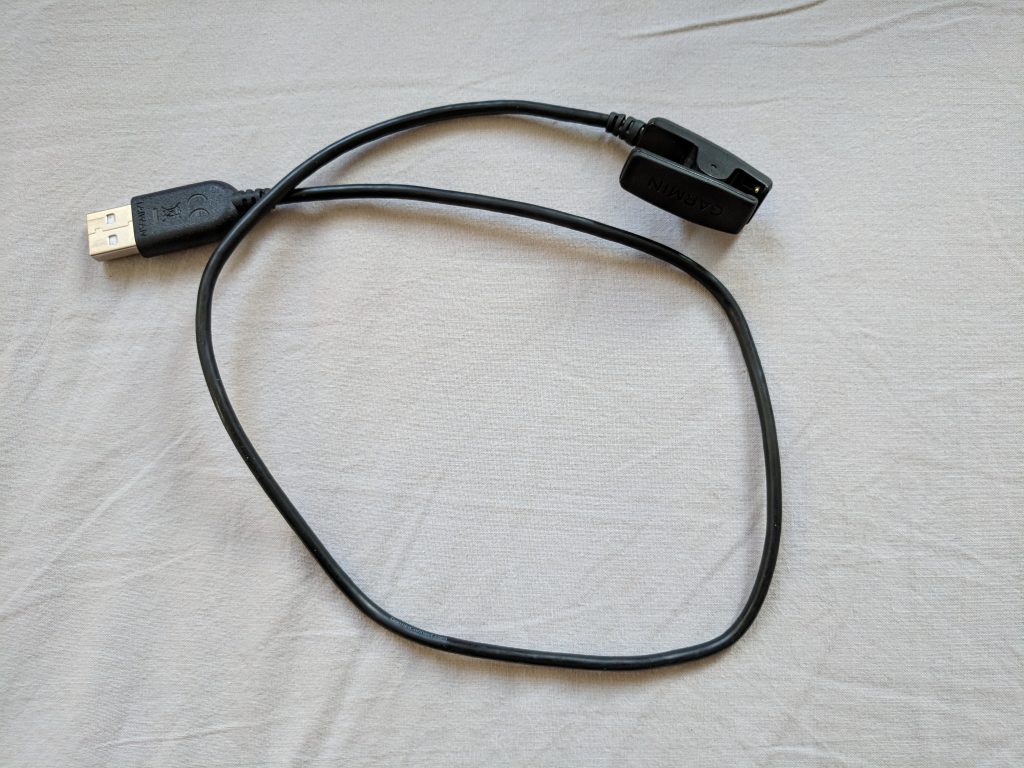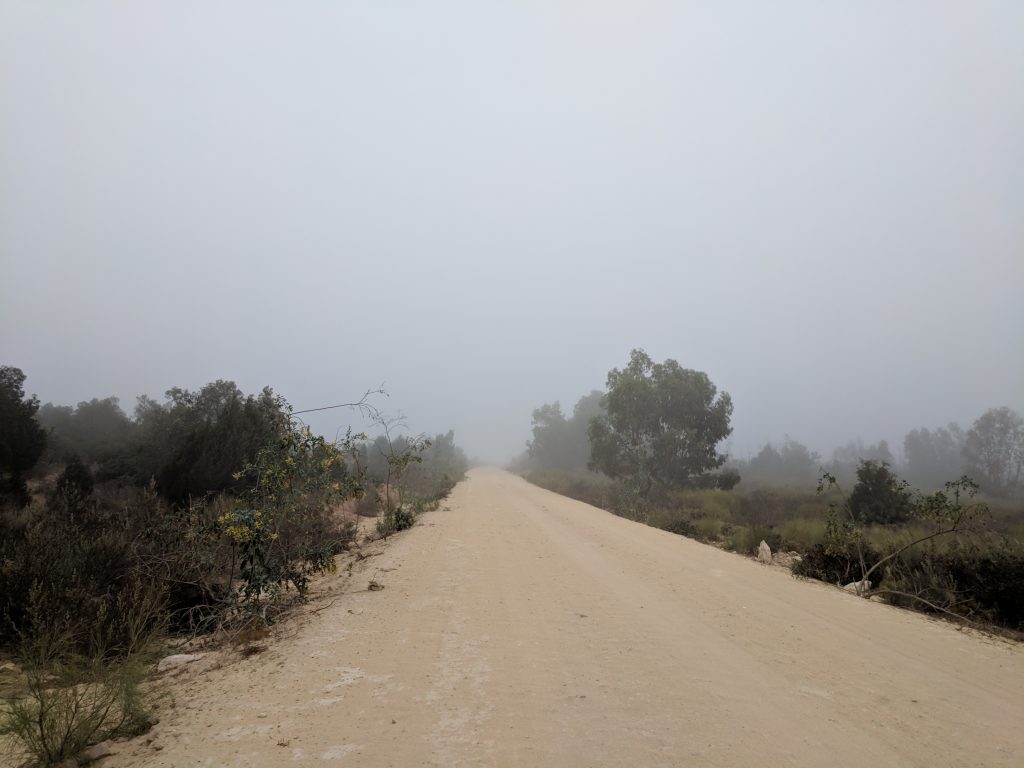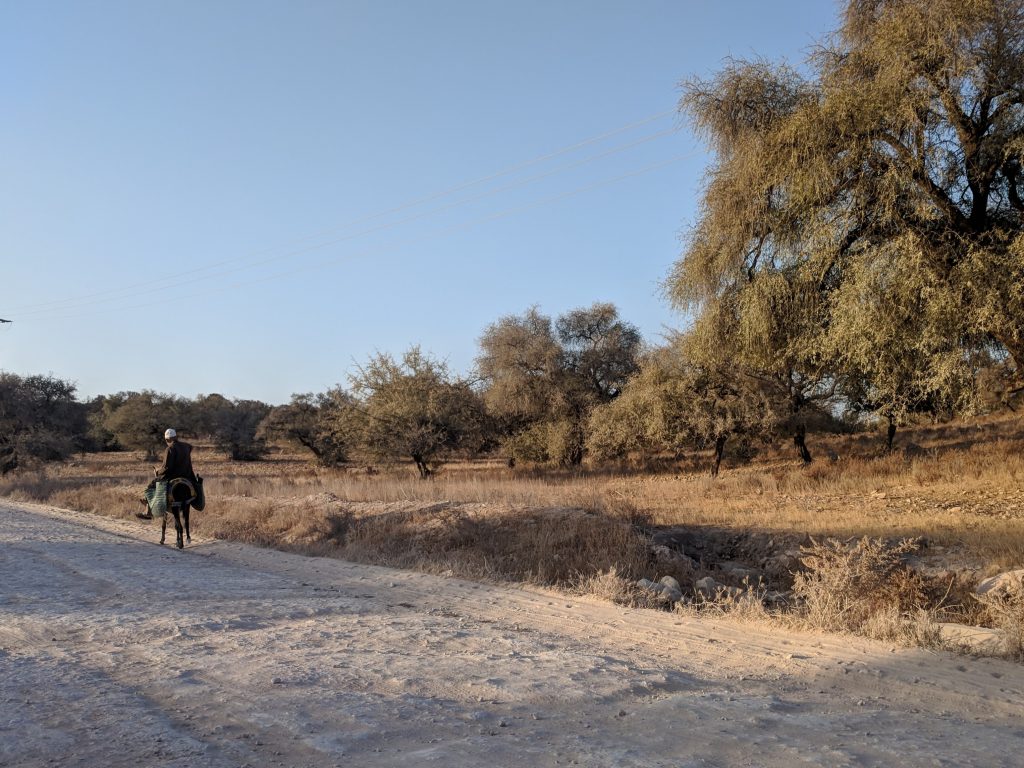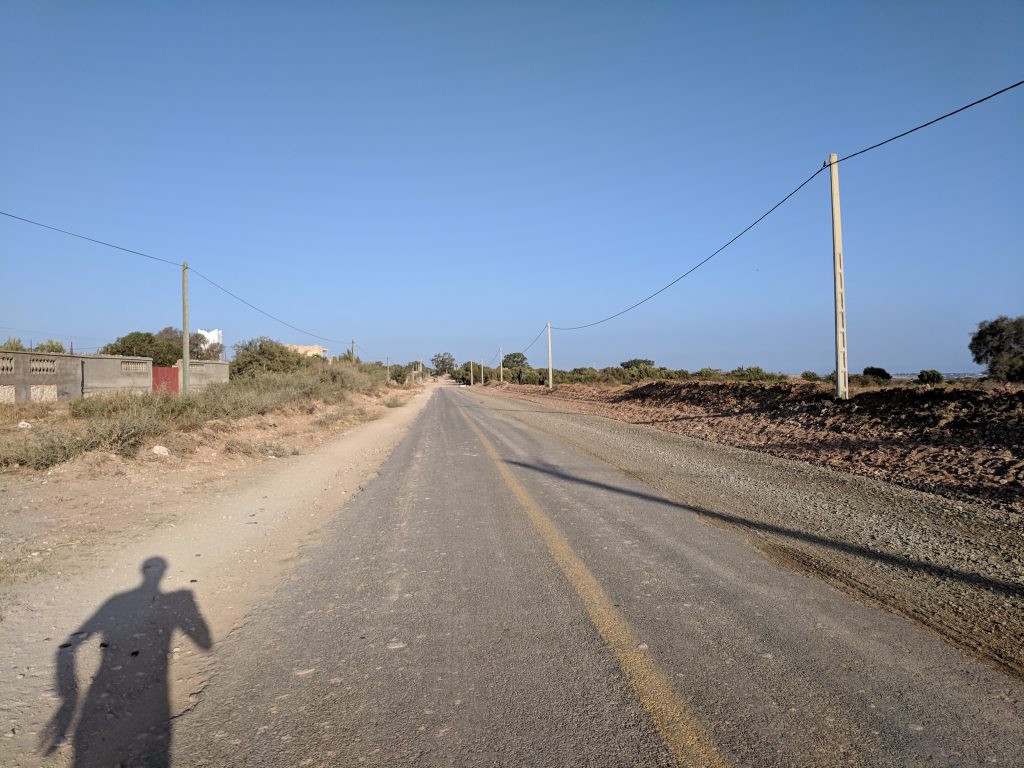 Surfing in Morocco
Morocco gets its swell from the North Atlantic. Low pressure systems generates the waves far away. Unfortunately this systems doesn't show up too often in the summer months. So it's possible that you get flat days for a longer period of time. Additionally there are strong northerly winds in summer as well. If you have some swell it can easily been blown out. For us is was a mixture off all. We had flat days, windy days with waves, too much wind, too big waves, just manageable waves and easy summer waves. When we were in the water this all didn't matter much. Just being there and try to catch the waves was great. But the most import thing for me was doing something enjoyable together with my boys and they love it too.
From a sport perspective surfing is something which I really like. The whole body gets a got workout. You need endurance, power, flexibility, determination, a relaxed mind and you learn to respect mother nature.
I used the Magicseaweed app on my Android phone to check waves heights, wind, tides etc. It works very good. We also had the Stromrider Surf Guide Europe with us and I love to read in it. With this information it is easy to find the right spot on the right time.
Were did we finally surf. Basically we went down from north to south, Moulay Bousselham (Strong currents and windy), Oualidia (manageable and sometimes too big), Bhibah (enjoyable), Essaouira (enjoyable and sometimes windy), Sidi Wassay (enjoyable). All the famous spots around Tarhazoute (Killer Point, La Source, Mysteries, Anka Point, Hash Point, Panorama's, Devil's Rock, Banana Beach) were death flat, when we arrived there. That was a shame, but like this we have one more reason to come back one day.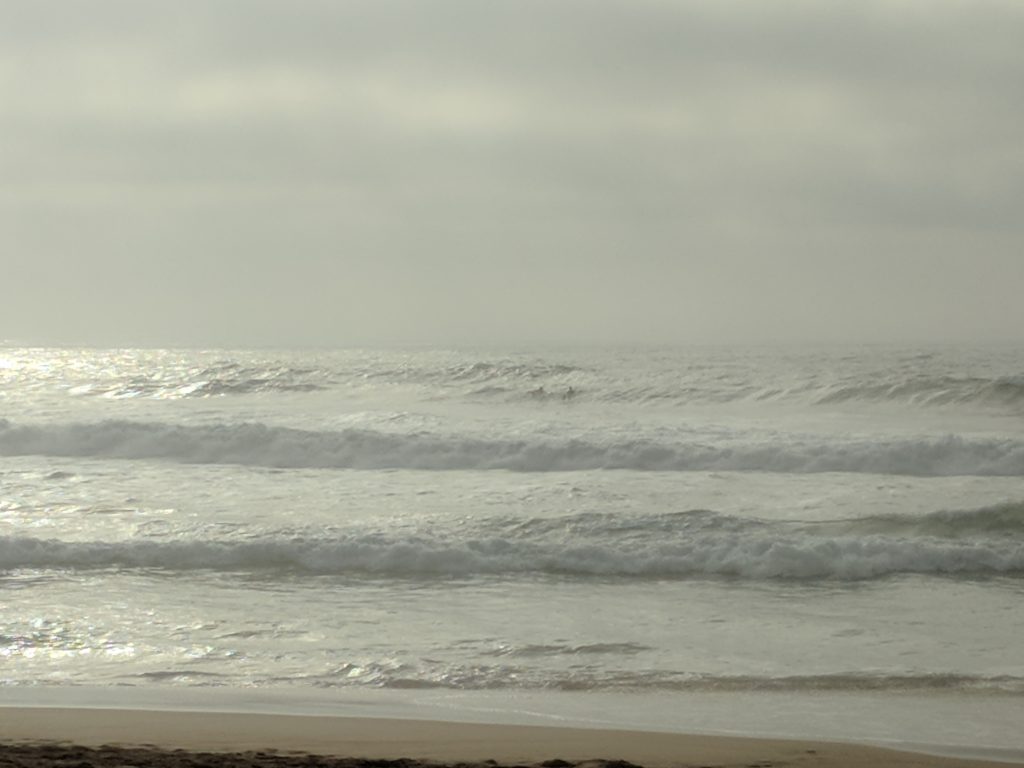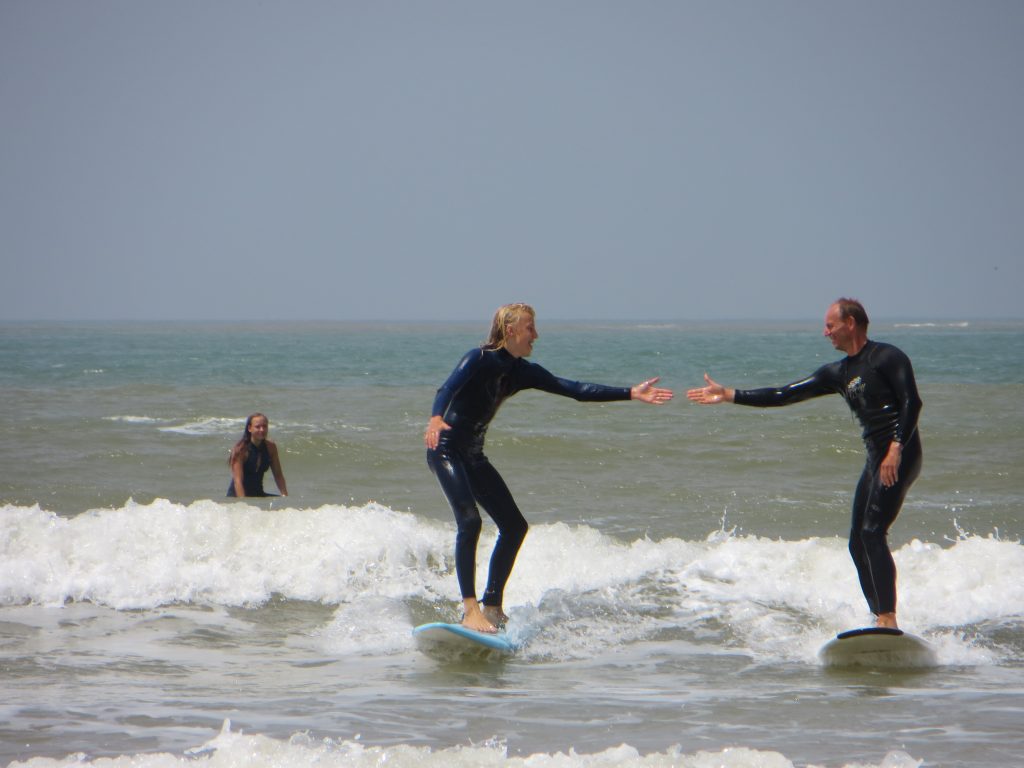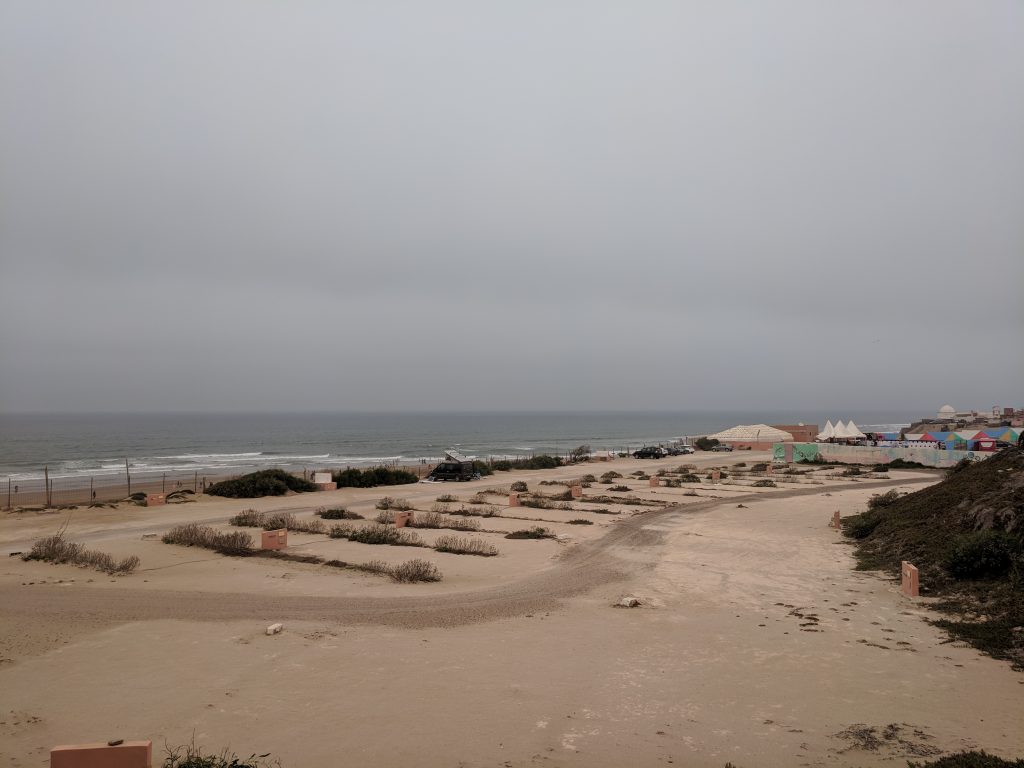 The Roadtrip
We love to explore a country on the road. So it was clear that we travel around as much as possible and when we find a nice place we stay a bit longer. A bit longer means two, maximum three nights and then we move on. From Tangier we went straight to the Atlantic Coast to find a spot to surf.
Moulay Bousselham
This was our first stop after the ferry. It's a little town at the coast with a lagoon, which offers quite waters for swimming, bird watching and fishing. The campground (Atlas Gate) is directly at the lagoon and we booked a bird watching tour with a local guide. It was really nice and Hassan knew everything about the birds. After that, on high tide, we went to the beach for surfing. It was rough, windy, there were strong currents and we were the only surfers in the water. A bit scary at first, but after we got our first wave everything was fine.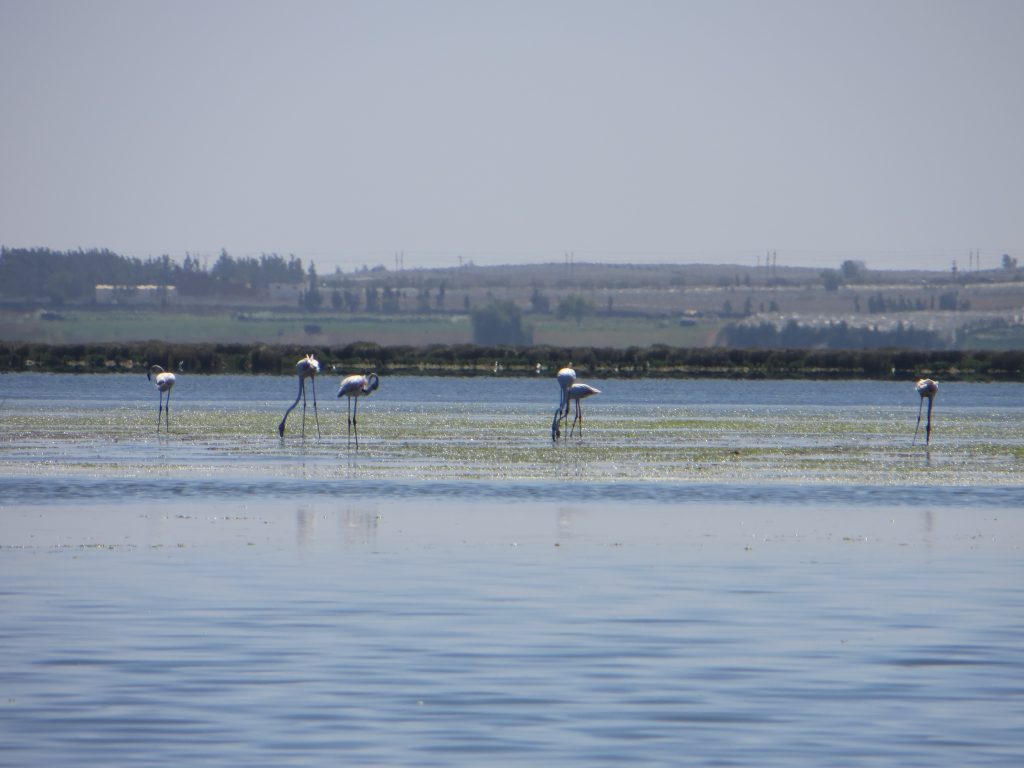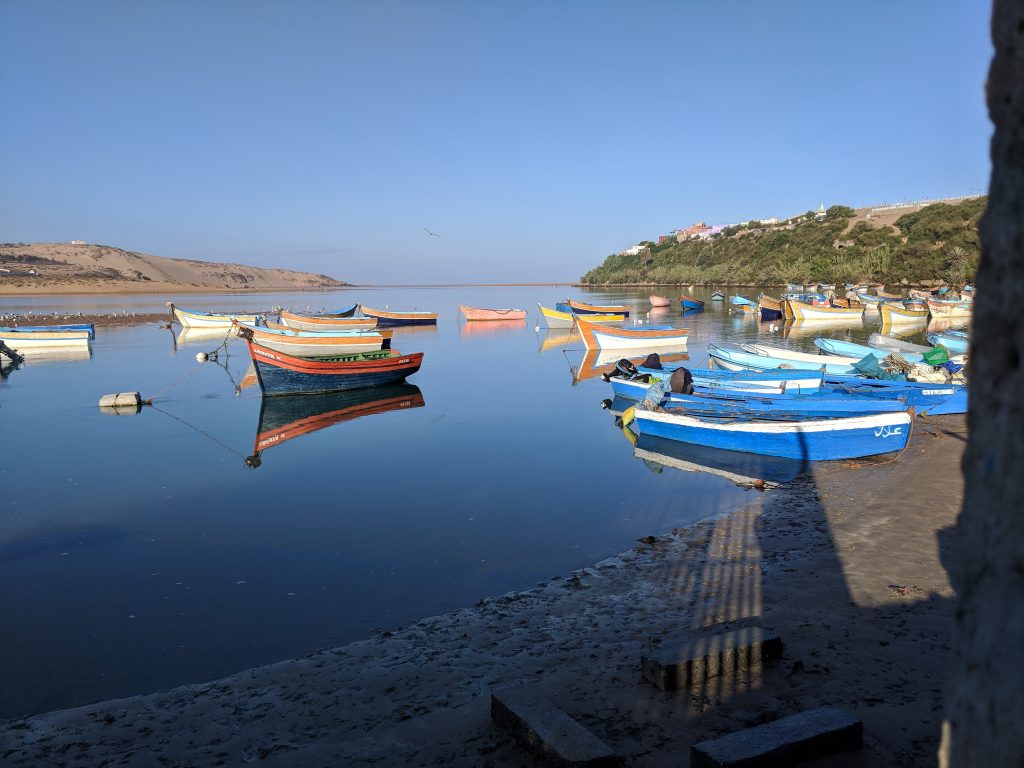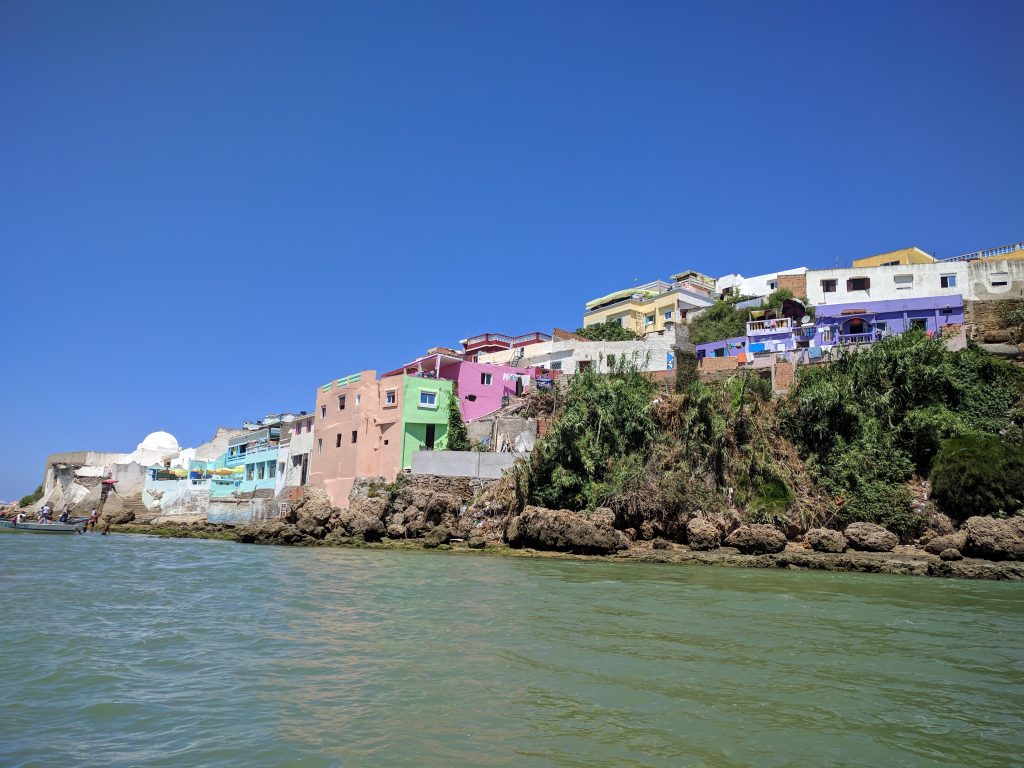 Mohammedia
On one side of the city (north) nice little empty beaches, on the other side the biggest raffinerie of Morocco. Unfortunately a building boom is rolling over the beach fronts which isn't that nice. The campground (Blue Ocean) is one of the better one.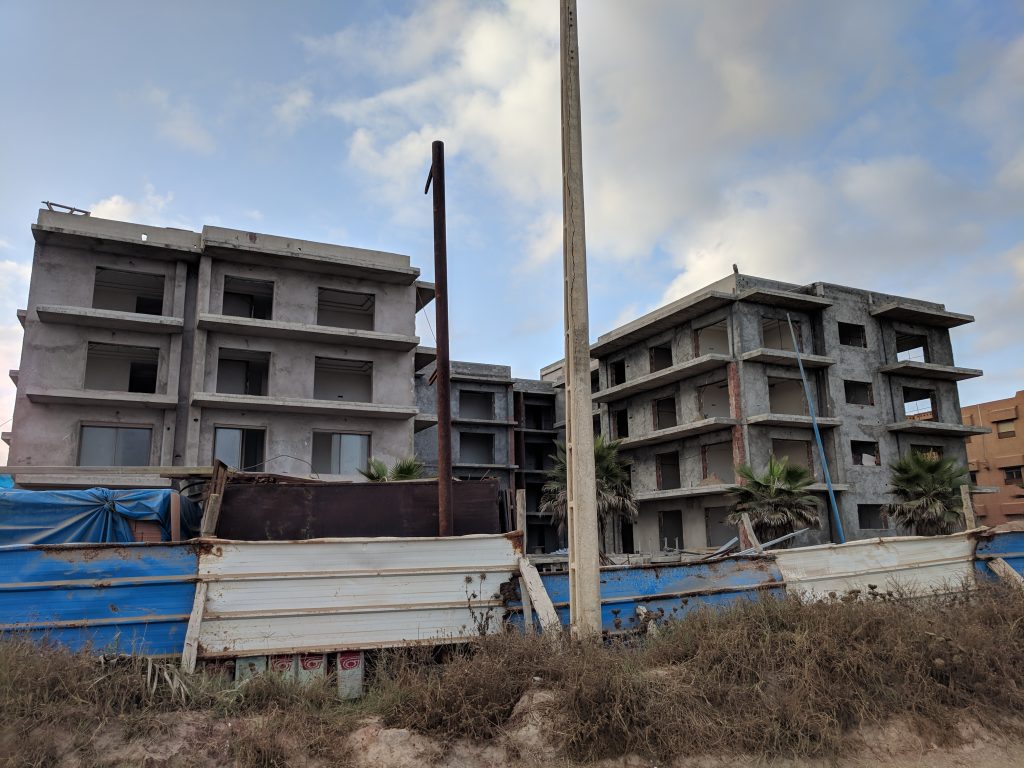 El Jadida
Just a stop over night. Camping International (el jadida) is alright. The main beach was surprisingly full of people.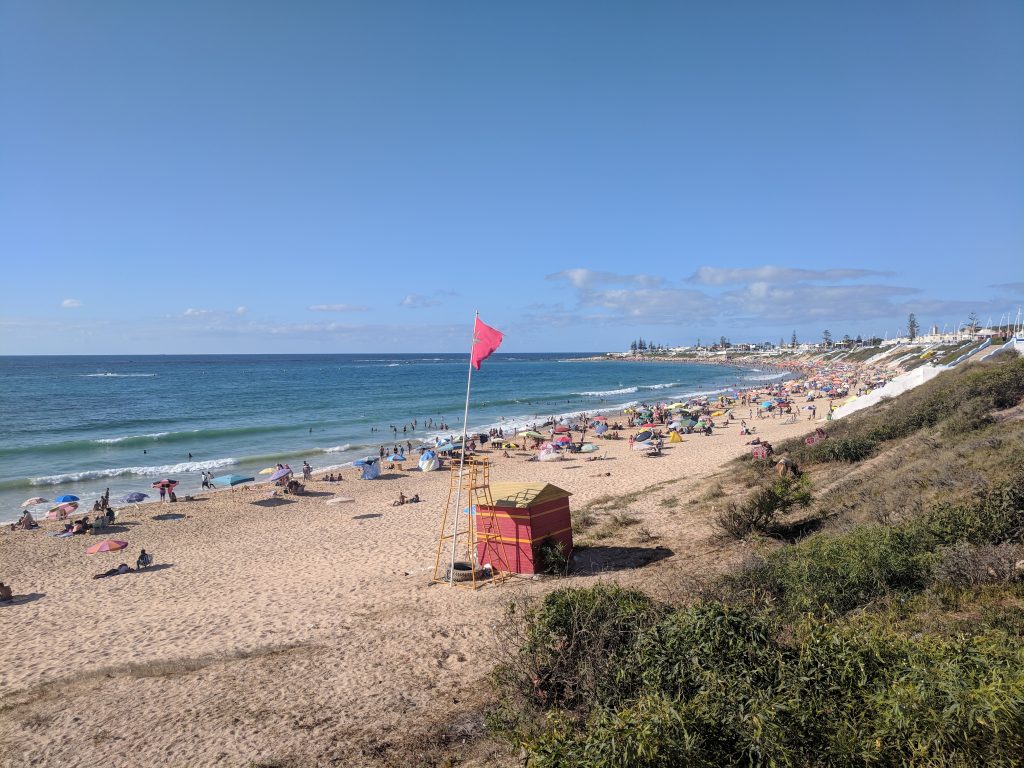 Oualidia
This is a little popular town at the coast and a lagoon. There was a music festival going on and we went there to our first local souk (market). And it was really local, we were the only Europeans as far as I could see. It felt strange at first, but after a couple of minutes we were sucked up by the flowing masses trough the cramped pathes. At first it seemed totally chaotic with all the different market stalls, but there were different sections for vegtables, fruits, meat, clothes, kitchen stuff, carpets, spices, you name it. It was like a huge shopping mall old school style. Eventually we were released on the other side. Awesome. Back on the Campground (Laguna Park) we were a little bit exhausted, but happy. Surfing was again wild and I saw the only other runner while I was running.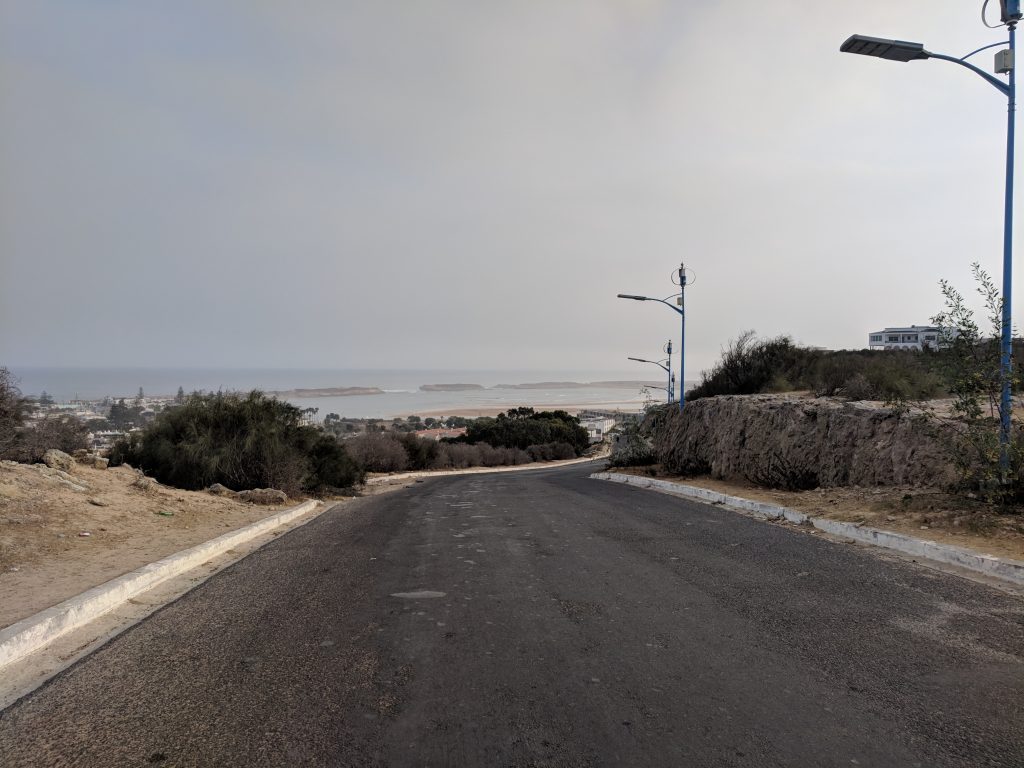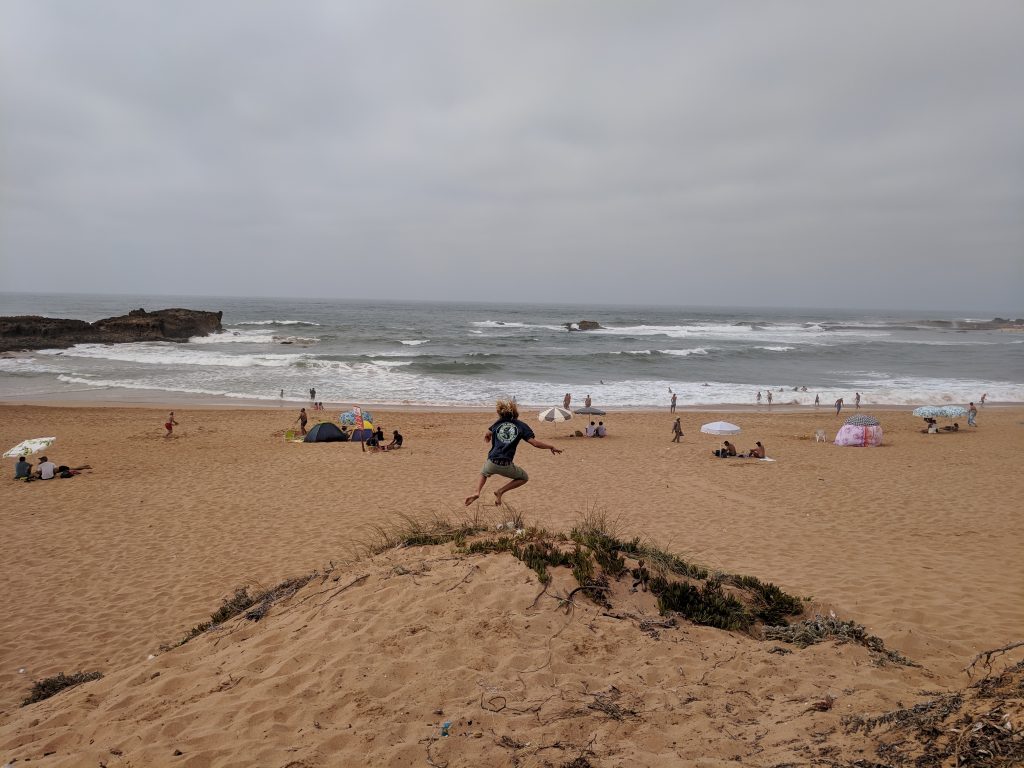 Safi
Safi is called the pottery capital of morocco and there is a potters hill where all the workshops are. It is close to the medina (the old Portuguese fortress) and we thought we can visit both. My wife wanted to buy some pottery and so we went through the town gate into the narrow gloomy alleys. There was not much life. Some people here and there, a lot of cats and the further we advanced the more queasy we felt. No other tourist were there and suddenly a young man with a bright red football t-shirt showed up and started to talk to us. At first the normal stuff, where are you from, I know someone in Germany etc. after a couple of minutes of talking (my boys already started to walk faster) he wanted to show us the medina and the pottery hill. Kindly we told him that it was nice from him, but we wanted to explore the city by our self. He didn't stop talking, maybe he didn't listen. "If you buy something from the pottery I will not charge you anything, but if not than I want 100 dirham." (ca. 10€) My wife suddenly turned around said once more thank you and walked back to the car. When we finally reached the town gate the guy finally gave up and left us alone. I tought that was it with the pottery, but my wife didn't wanted to give up. So she looked up the pottery hill on the GPS and we drove around the corner (liturally) and were in front of the pottery hill. Hardly out of the car the next guy with a bright football t-shirt came out of nowhere and offert his service directly. This time in the open space we accepted the guidance offer and he showed us the different workshops and explained every step in the process of making the pottery. This was quite interesting. At the end we went into a little shop with all the pottery things. My wife bought some little bolws and a tajine. On the way back to the car the man wanted to show us the medina, but we had enough. He then wanted 200 dirham (ca. 20€) for his service. Ouch! We had a little discussion and gave him finally 50 dirham and off he was. This experience was enough for that day and we were glad to leave Safi behind us.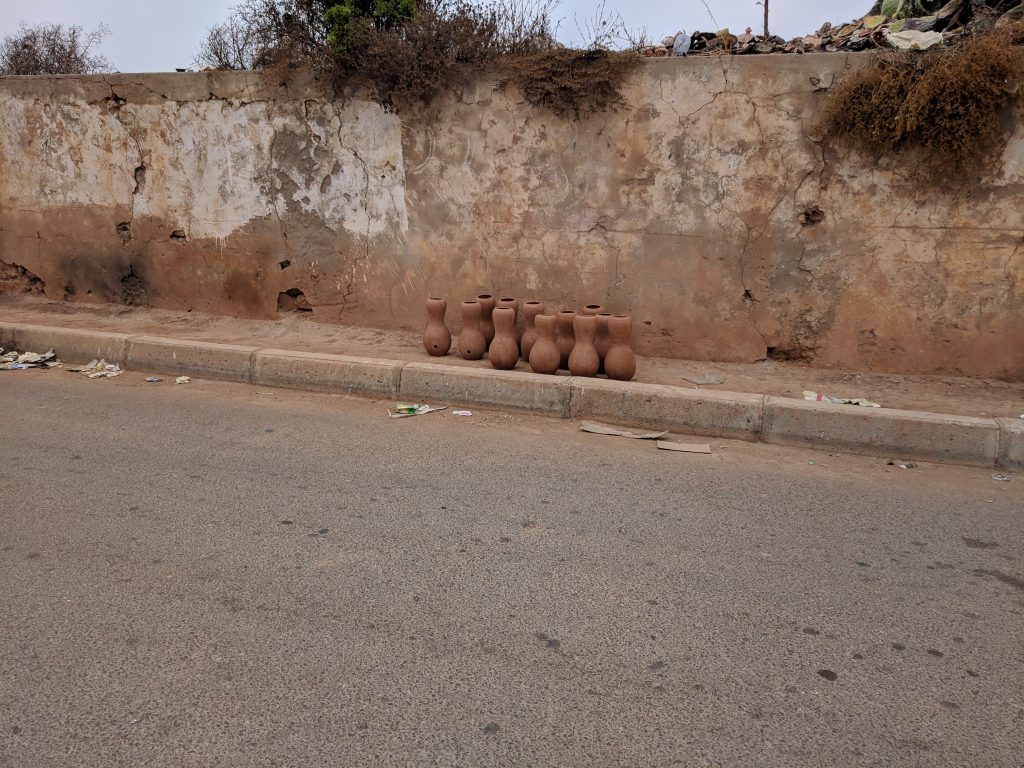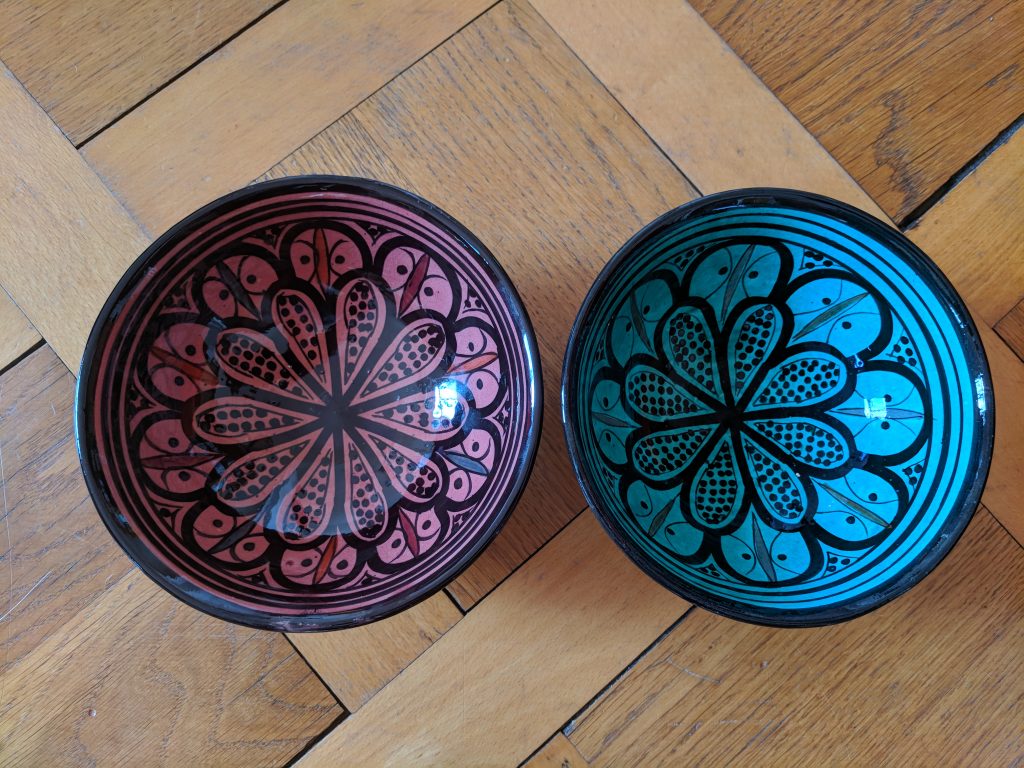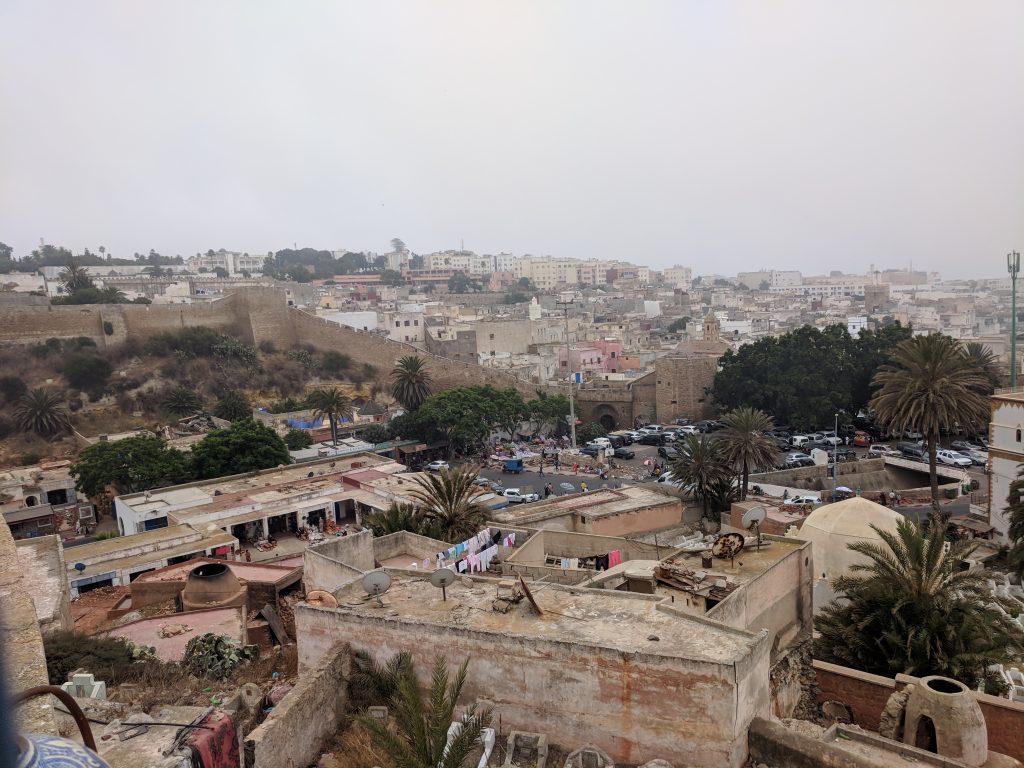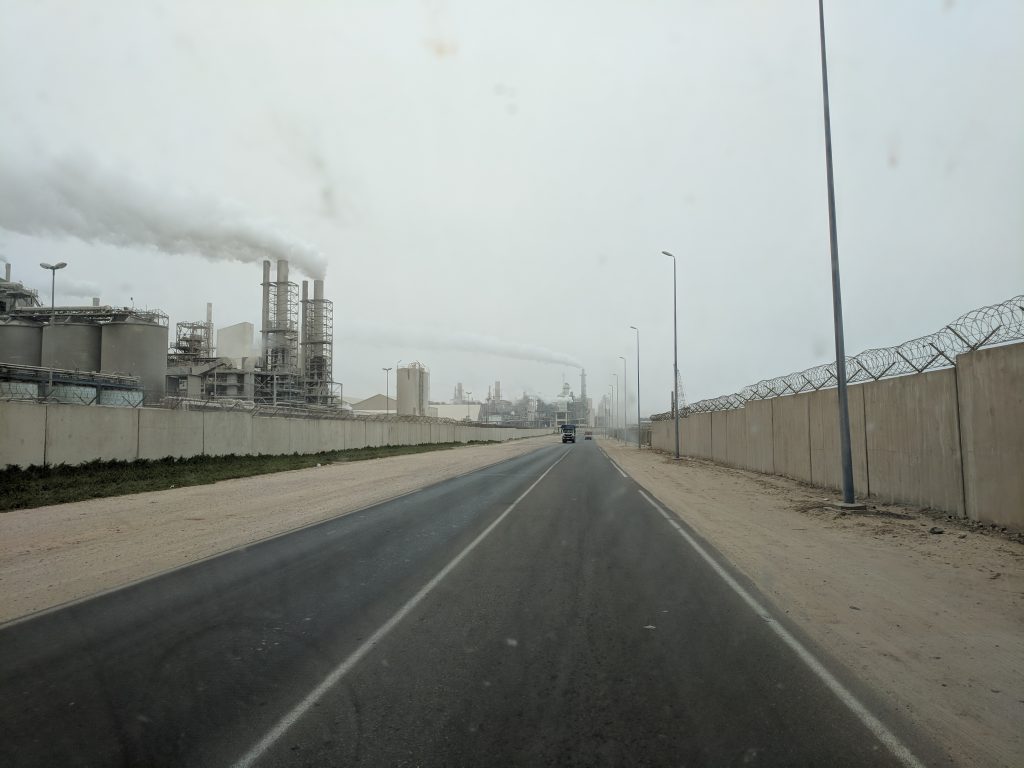 Bhibeh
From Safi we took the coastal road R301 to Bhibeh. It's marked as scenic road on the map and it is. We had plenty of time to enjoy the scenery. The road has so many potholes that we manage barely 25km/h. Glad that it was not far to Bhibeh, a tiny fishing village. There are maybe more than 100 boats on the beach and only a couple of houses. Don't now where all the fisherman live. The beach is wide and was nearly empty. We stayed on a kind of little fortress with a couple of houses for rent and some space for campers. We where the only campers and the french landlord was very kind. First thing first after check in, surfing. Nice.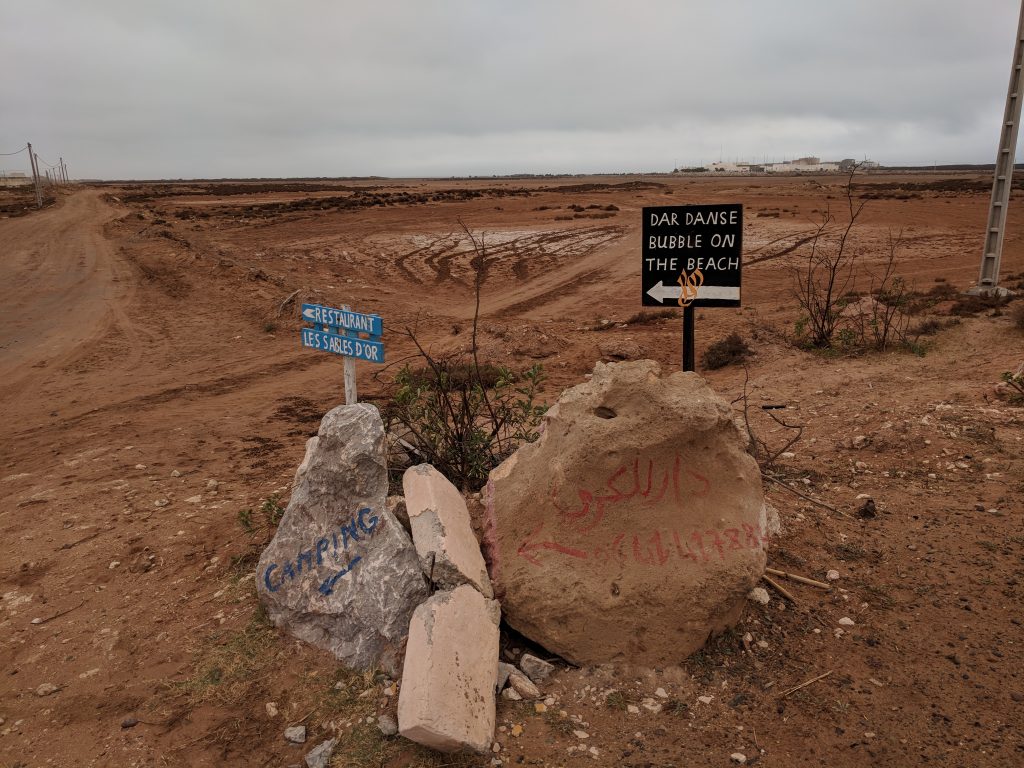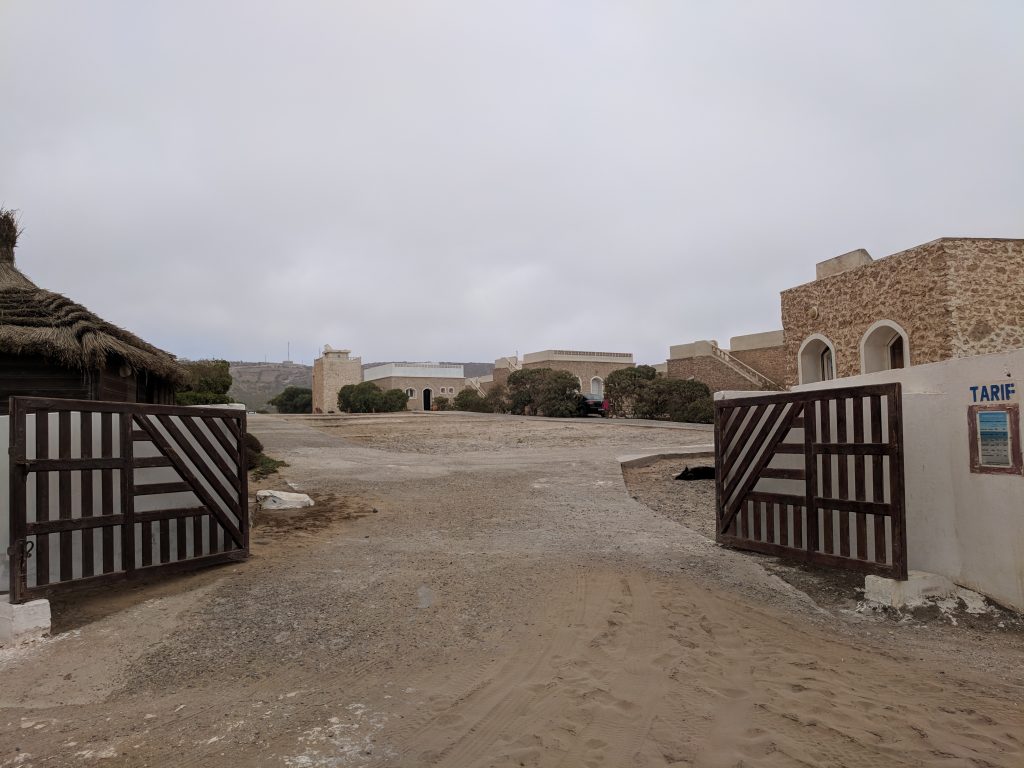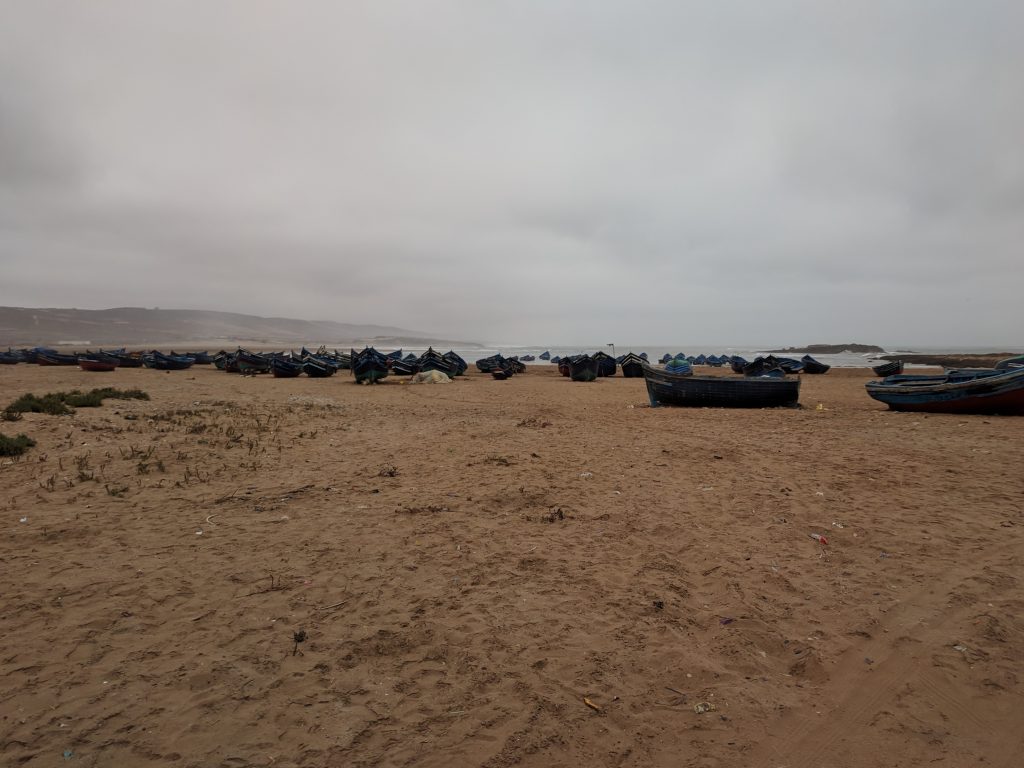 Essaouira
We heard a lot good things about Essaouira from my wife's sister. She really likes the town and was already several times there. And it offers a lot. A great beach in a bay, a vibrant historic city center (Medina), for me the right size (ca. 80000 inhabitant), a good mixture of tourist and local people, good restaurants, friendly people, good waves for beginners and very often a lot of wind for wind- / kite surfing. We stayed outside of town (18 km ~ 11.2 miles) at Camping Esprit Nature. It's nice, calm, clean and there was only one other couple with a tent.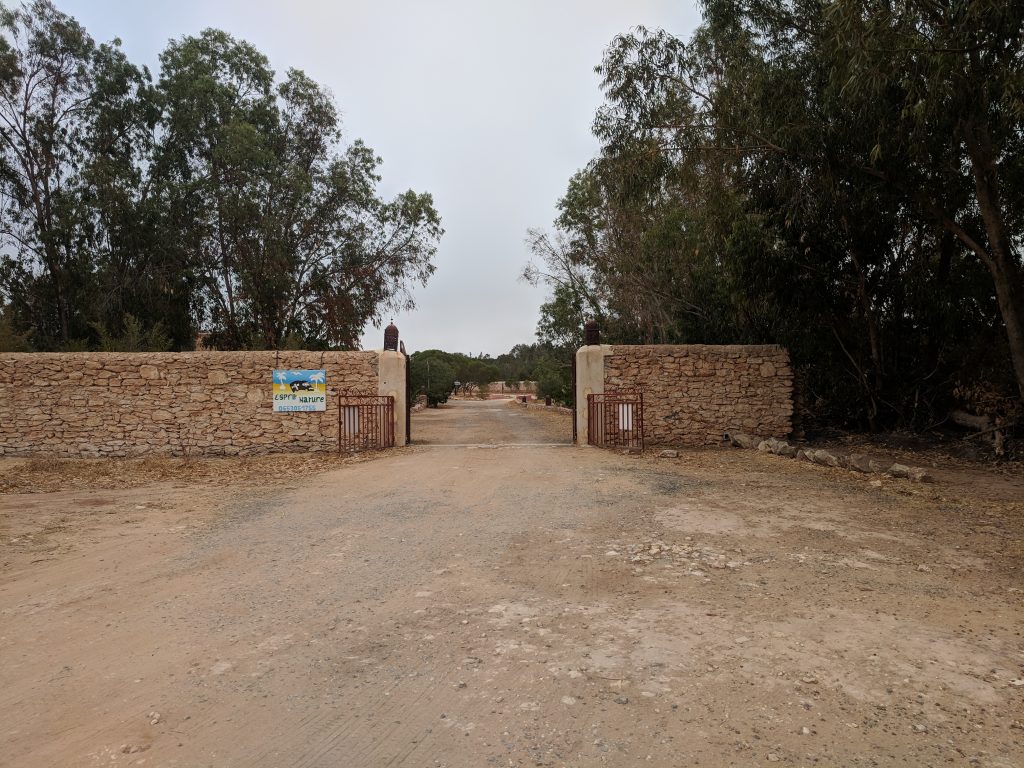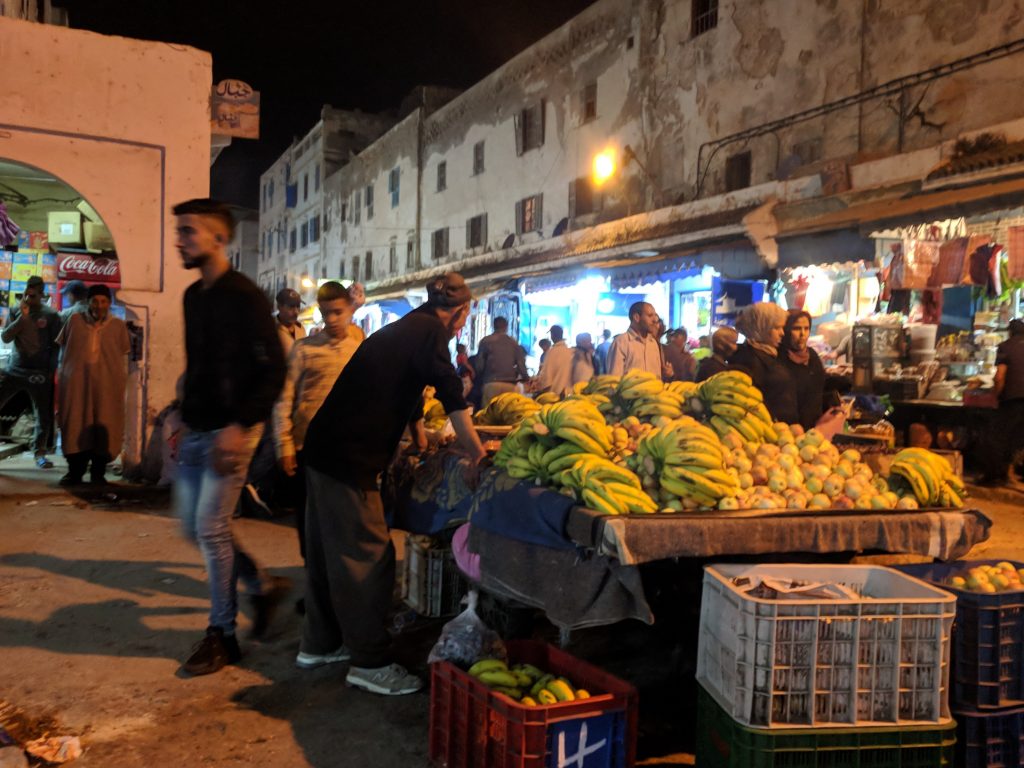 Marrakesh
When we drove to Marrakesh, which is inland, there was the Eid_al-Adha or "Feast of the Sacrifice" going on. Everywhere we could see people who transported a lamb with them. On motorcycles, on scooters, in pushcart, on pickups, in the trunks of cars, on donkeys, they were everywhere. The next day the rubbish bins were full of sheepskins, nothing for a touchy persons.
We stayed a little bit outside of town at the nice campground Le Relais De Marrakesh. The owner told us that nearly everything in town will be closed, because of the Eid al-Adha. Anyway we drove into town. It was hot, more than 40°C (104 °F), at the coast we had under 30°C (86°F) and in deed the city wasn't packed with people and cars. We went straight to the famous Jemaa el-Fnaa square in the middle of the city. Even on this public holiday the place was full of people. Jugglers, snake charmer, story teller, people with apes, magicians etc. you name it. Before we even realized it, our little son had a snake around his neck and a guy was talking to him. In contrast to my wife our son wasn't scared at all and enjoyed it. It's one thousand and one night. After a while we got hungry and wanted to eat something at the numerous food stalls. In seconds we were surrounded by 20 food sales people who offered there menu. Everyone was trying to get us to his stall, what a spectacle. My wife took her time and when we finally decided and sat down, the whole crew was singing, clapping and cheering. Hilarious. The food was good, but little servings and nearly twice as expansive as what we paid in other locations. Jemaa el-Fnaa surcharge.
Another real tourist thing is a carriage ride. Here for the first time we tried to haggle and it was a little bit like in Monty Python – Life of Brian – The Haggle scene . Eventually we got an acceptable price for both sides a took the ride, which was nice.
Tired from all day walking, haggling and the heat we went back to the campground.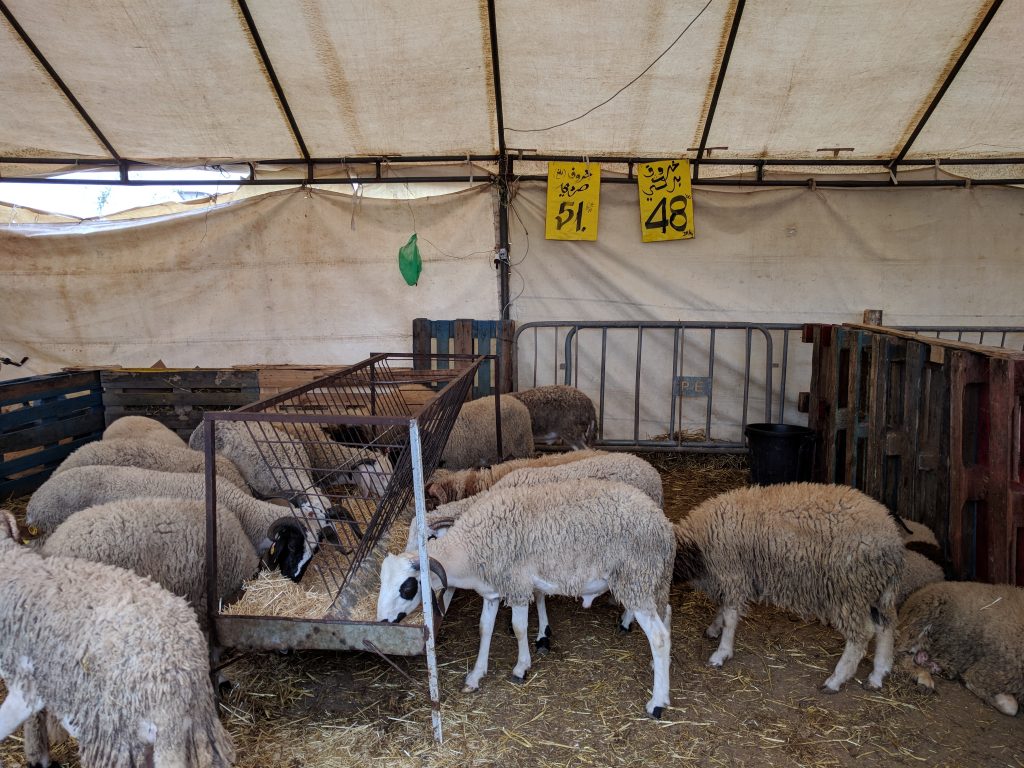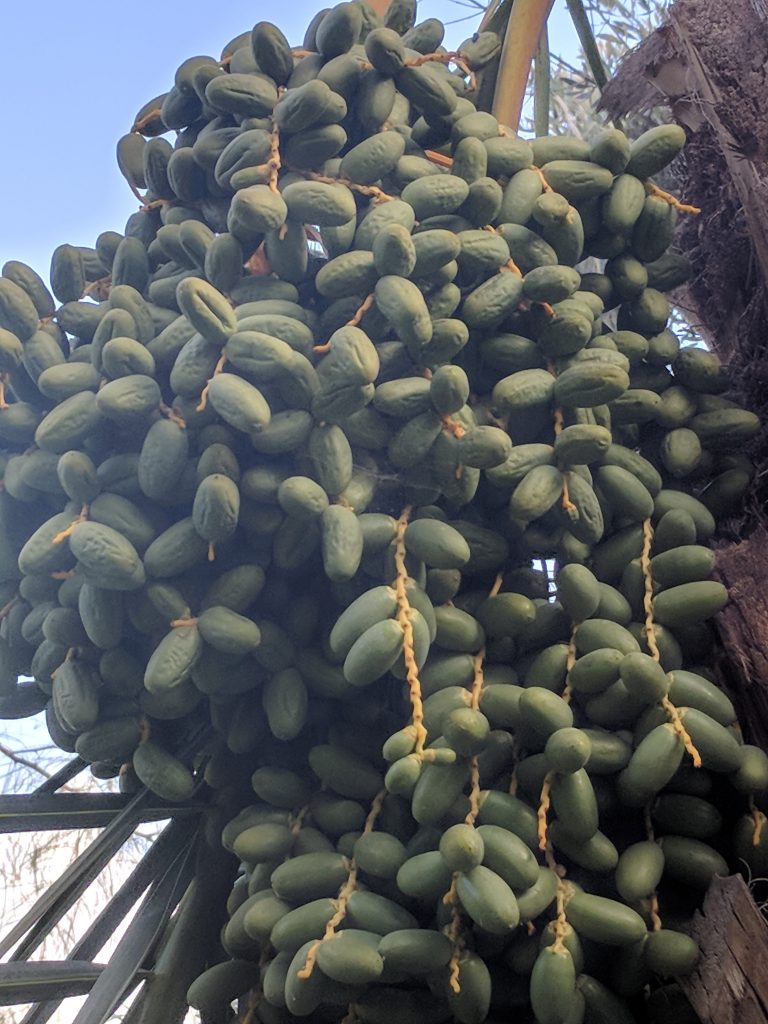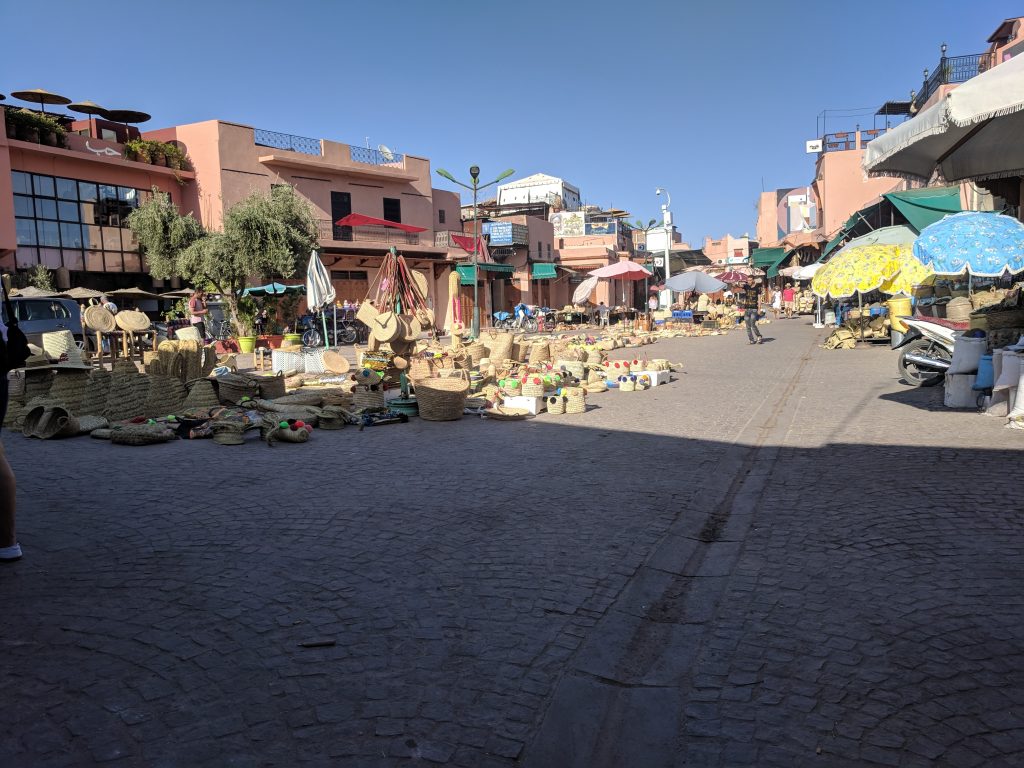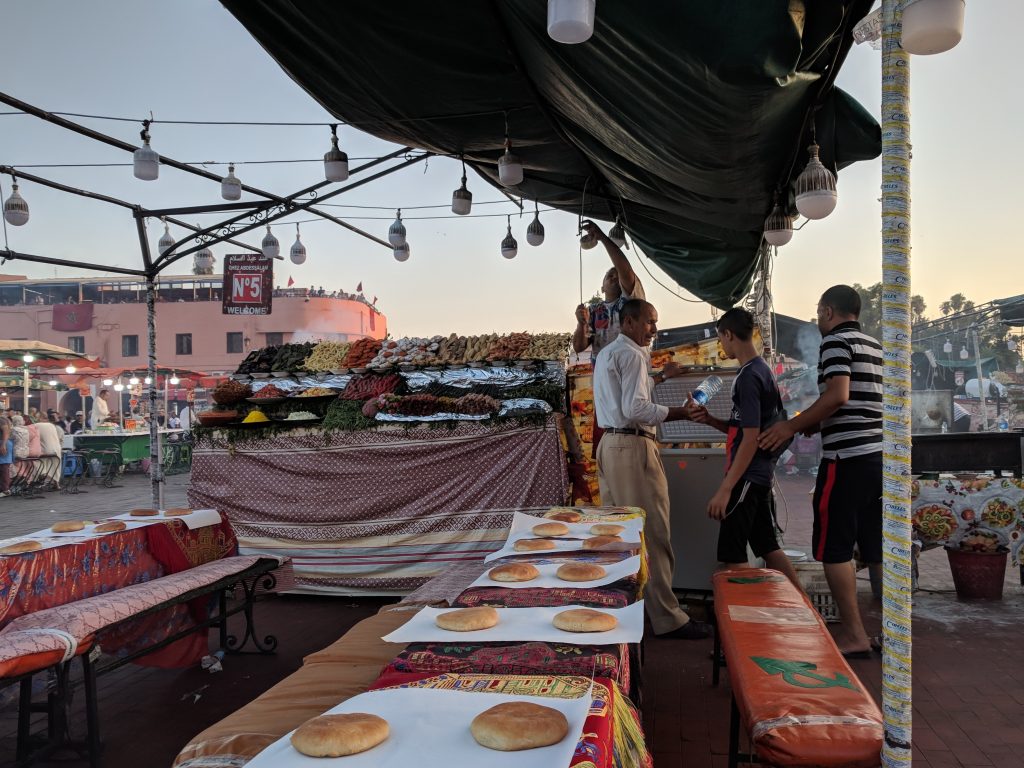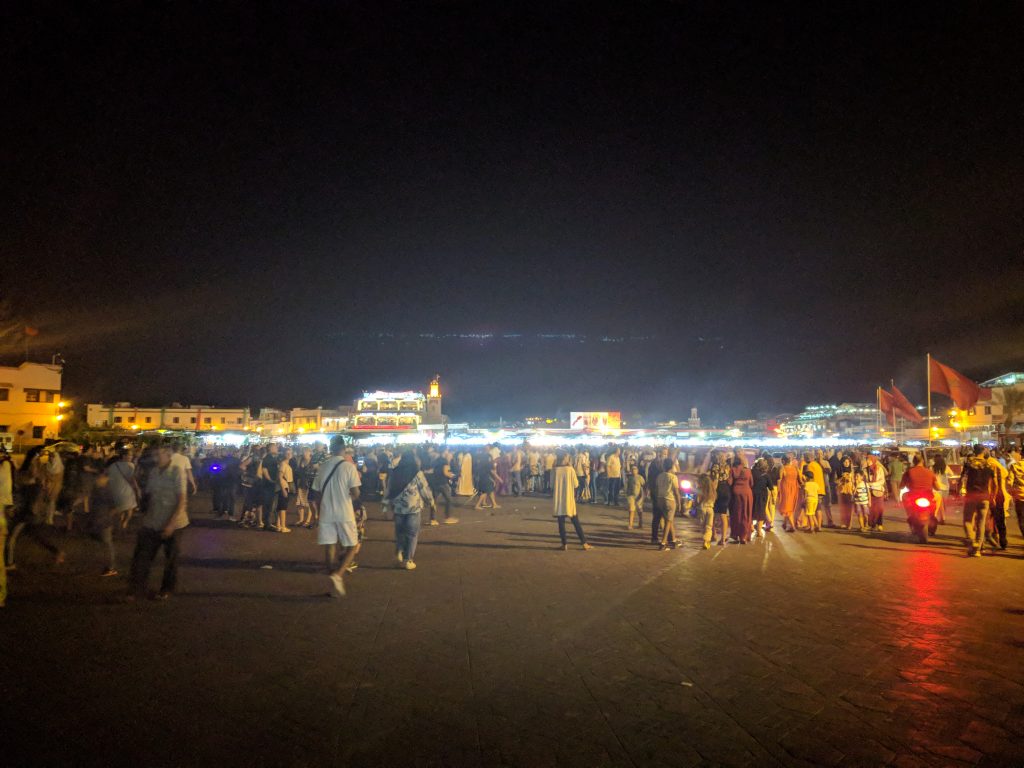 Tizi n'Test
To cool of we thought it is a good idea to drive through the Atlas Mountains back to the coast. On a little road (R203) we went up to the pass Tizi n'Test. There is a little restaurant at the summit of the pass (2100 m, 6880 ft) and you can stay over night behind the house with the camper van. We were the only ones and the old man who ran the restaurant, most probable a Berber, couldn't speak a word English, French or German. When we asked if we could stay behind the house for the night, he brought us a coffee. OK nice. After some talking with hand and feeds he took out his old style mobile and called someone and gave me the phone. Five minutes later we stood on the "campground" and we took a two hours hike to the closest summit. The view from the restaurant was great, but from the top it was spectacular. After a quite night and a Moroccan mint tea, we drove slowly down the narrow winding road.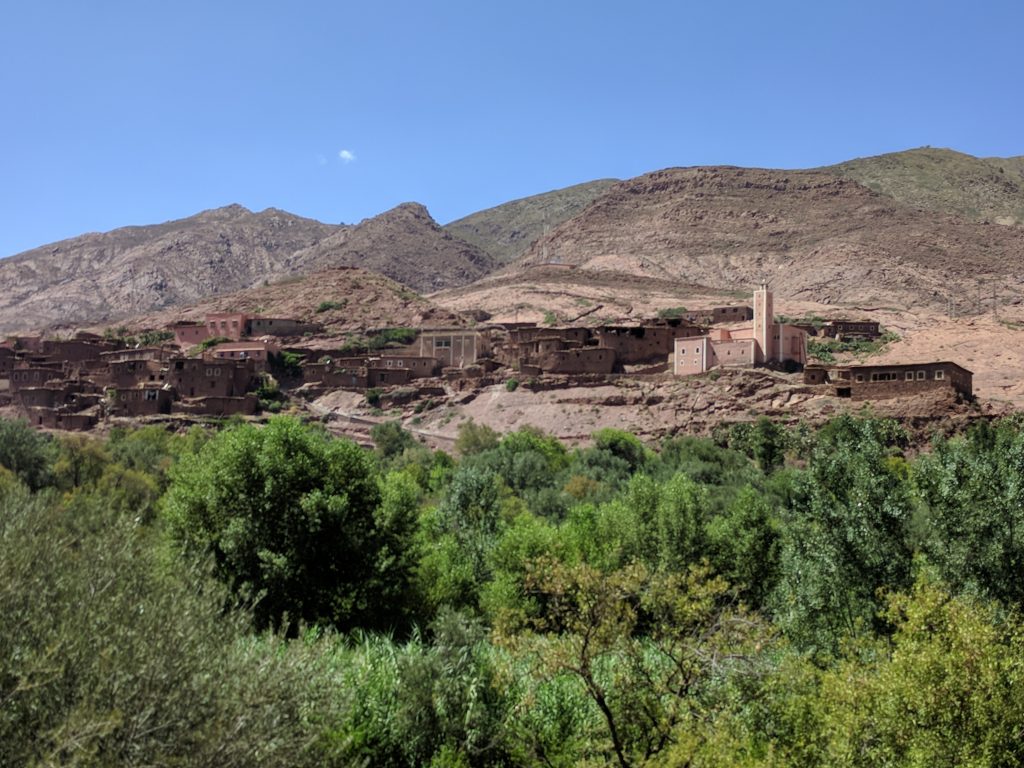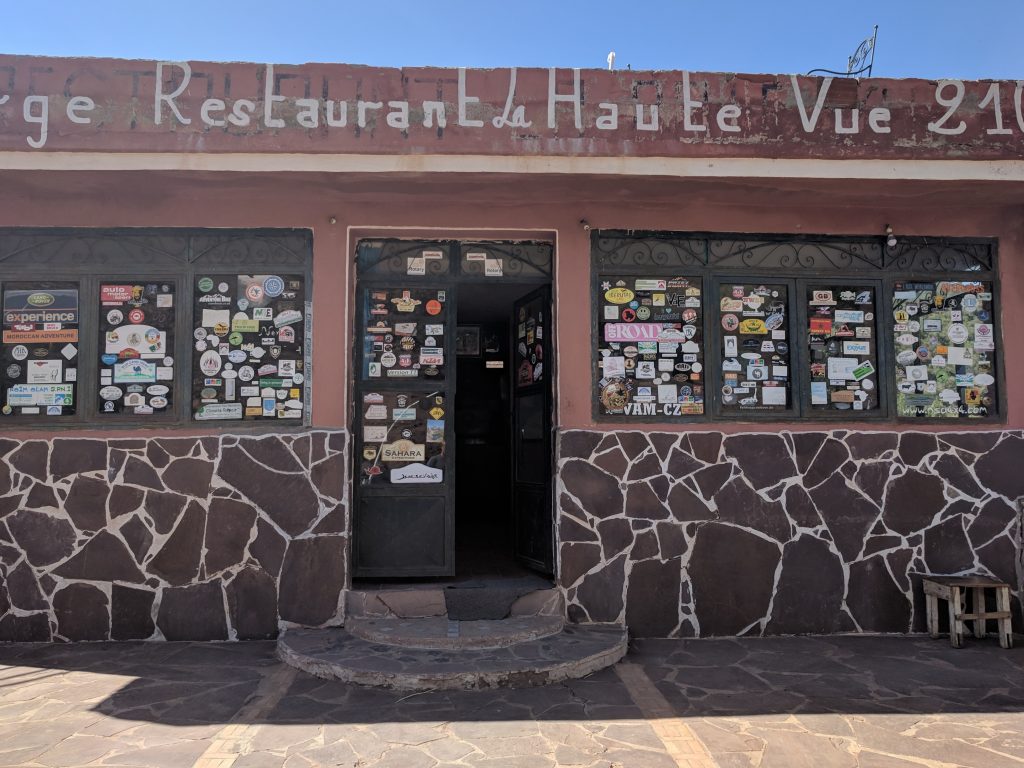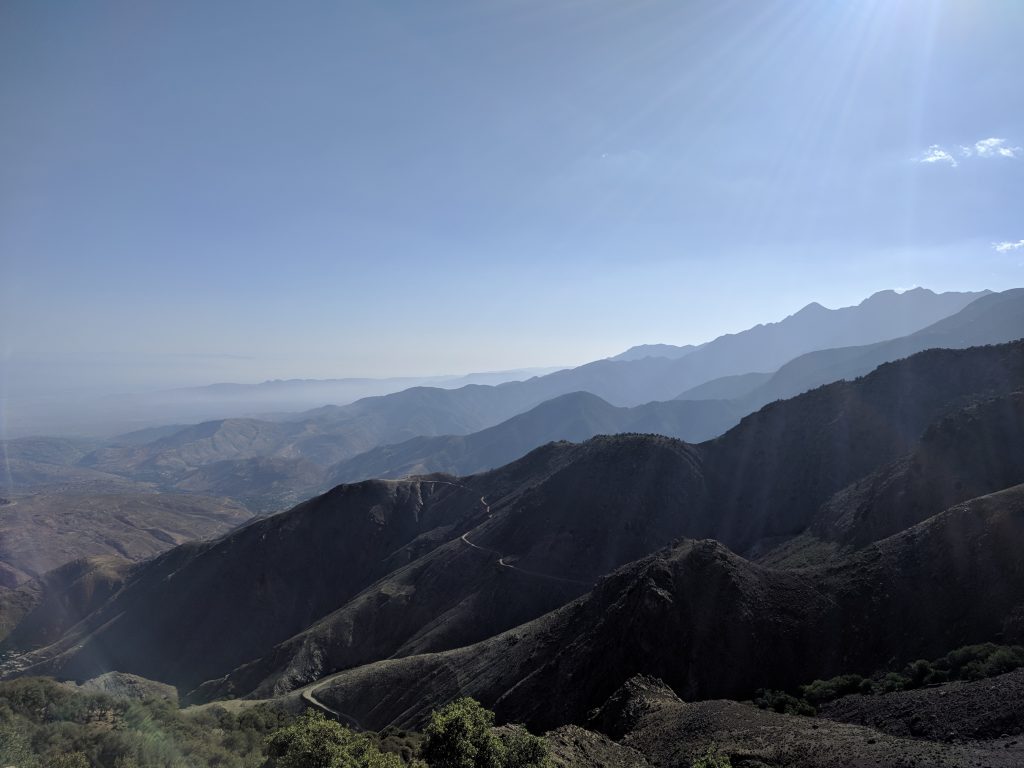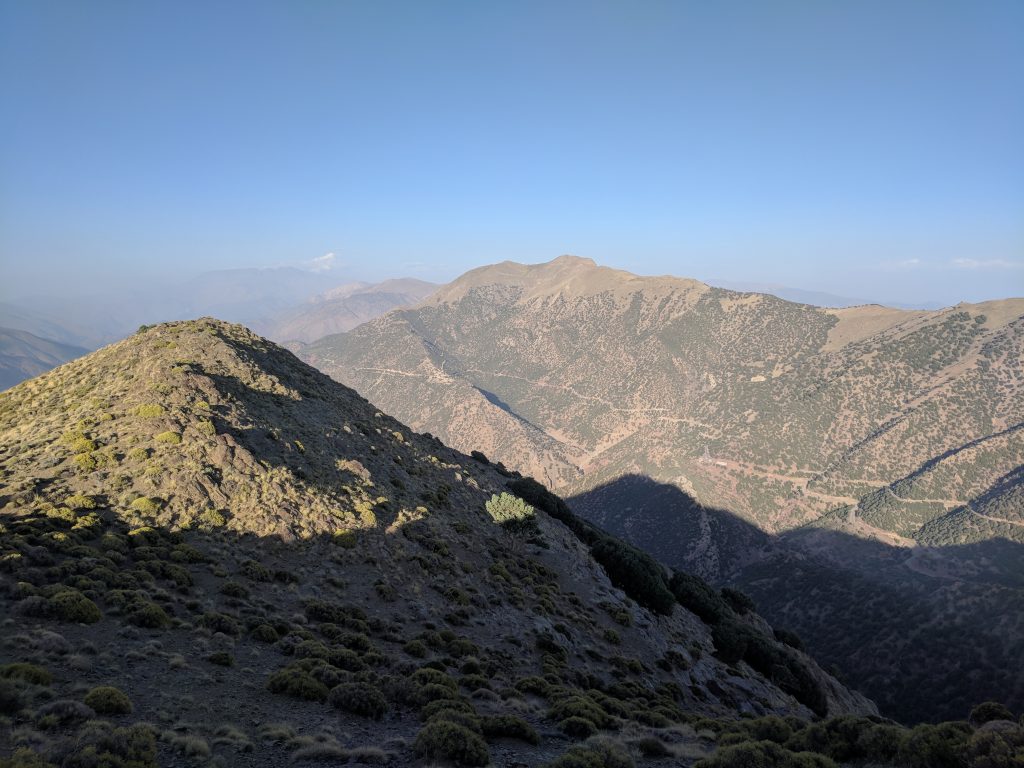 Sidi Wassay
A little town south of Agadir with a nice beach. We were the only people with a camper van on the campground and went straight into the waves for surfing. When we came back my wife told us that she can't stay more than one night, because of the really dirty toilets. Anyway the next day was so foggy that is was good to leave.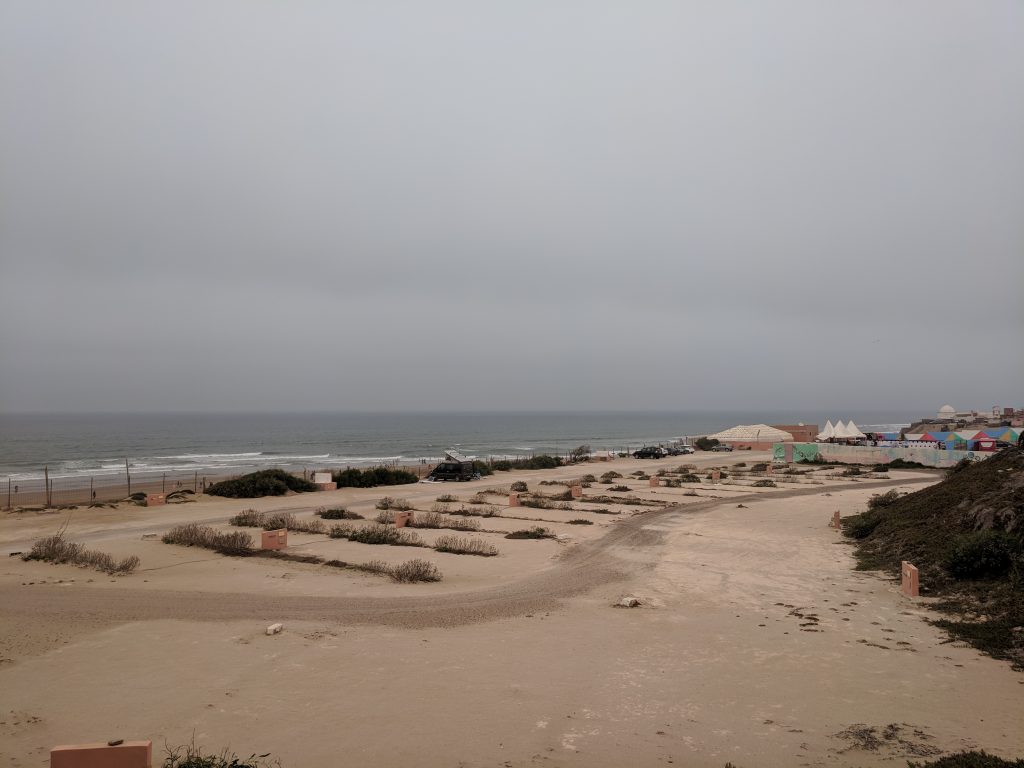 Tarhazoute
We went up north of Agadir to Tarhazoute. The fog disappeared and with the sun the good mood came back. We stayed at Camping Terre d'Ocean, which has a great view over the ocean. Unfortunately there where no waves and the forecast was not promising. But swimming in the calm Atlantic is also very nice. In Addition the restaurant on the campground prepared a great tajine for us and everyone was happy.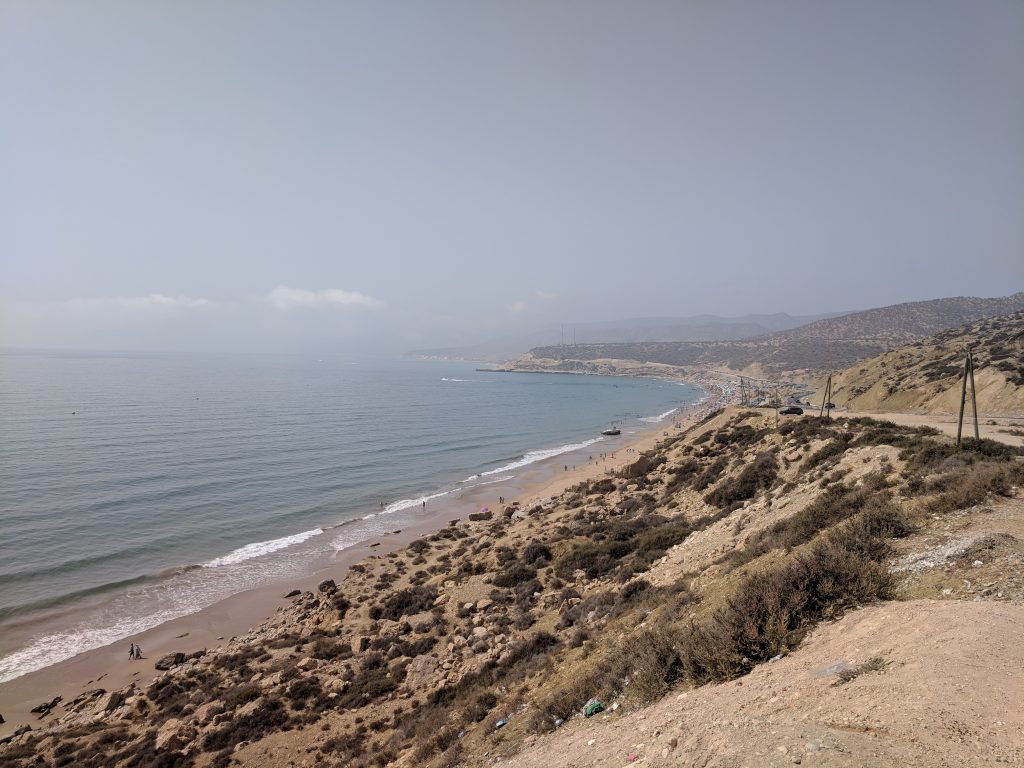 Essaouira
Back again in Essaouira. One reason was that we liked the city the most. The second reason, we wanted to meet a friendly family from home. They came by plane and had an organized tour, with all hotels and transportation booked. Obviously not our way of traveling, but everyone has his own matter of doing things. This time we tried another campground (Camping le Calme) which was also a little bit out of town (18km ~ 11.2 miles). Again there was only one other camper van and we enjoyed a couple of days there, at the beach and the city.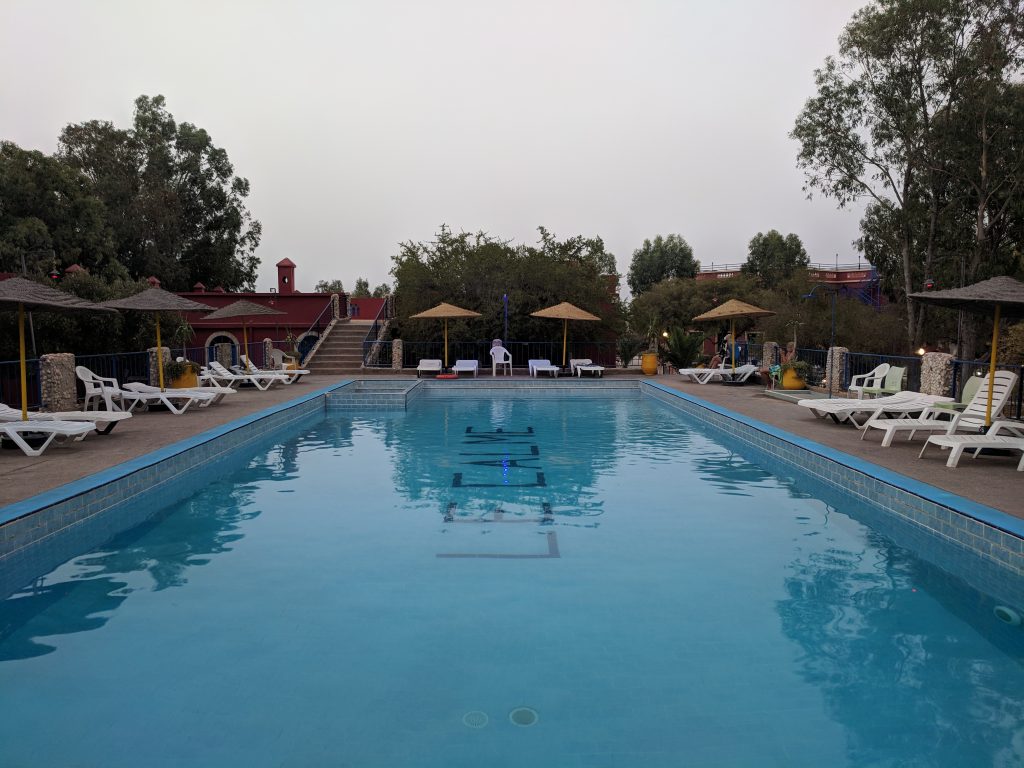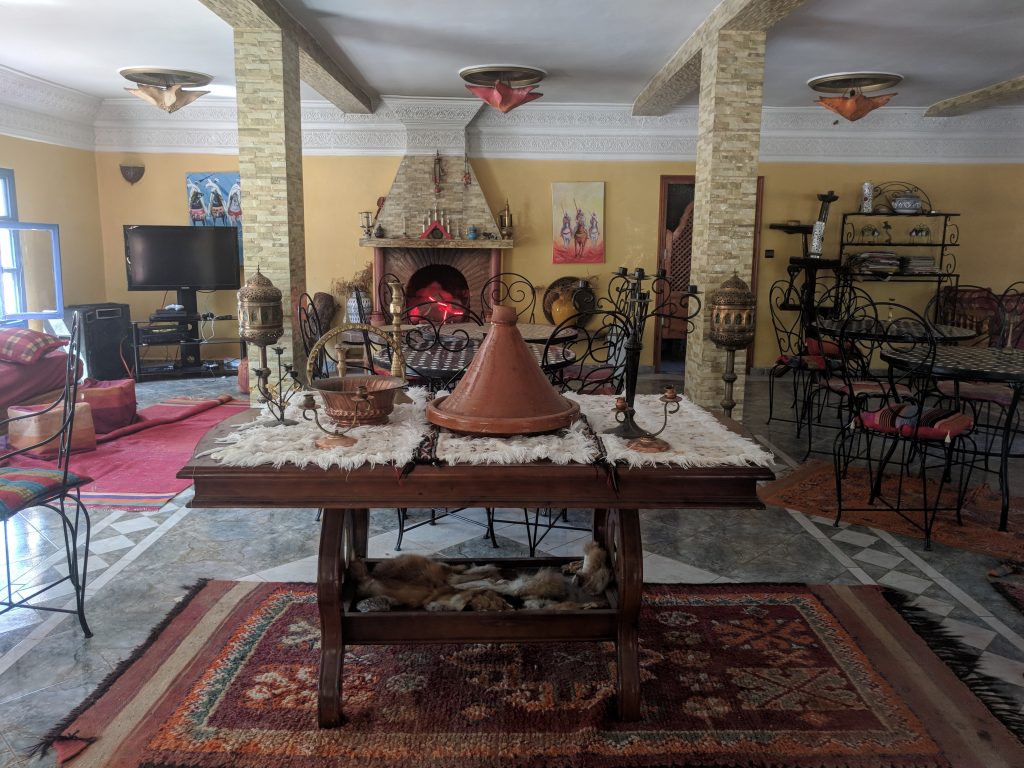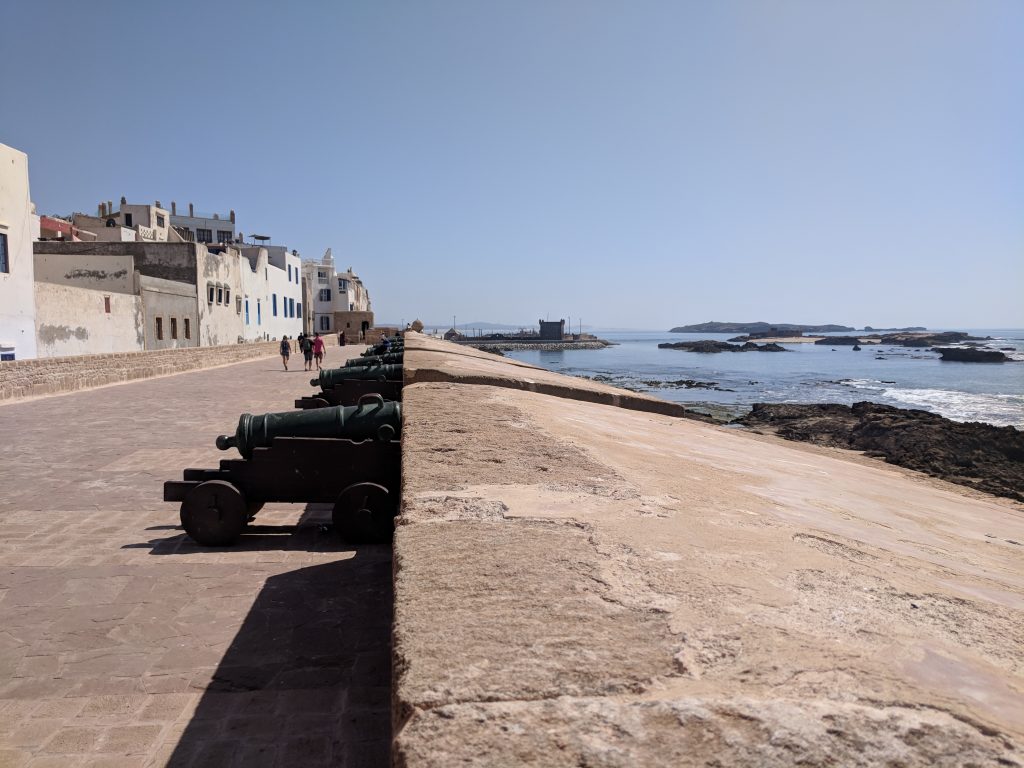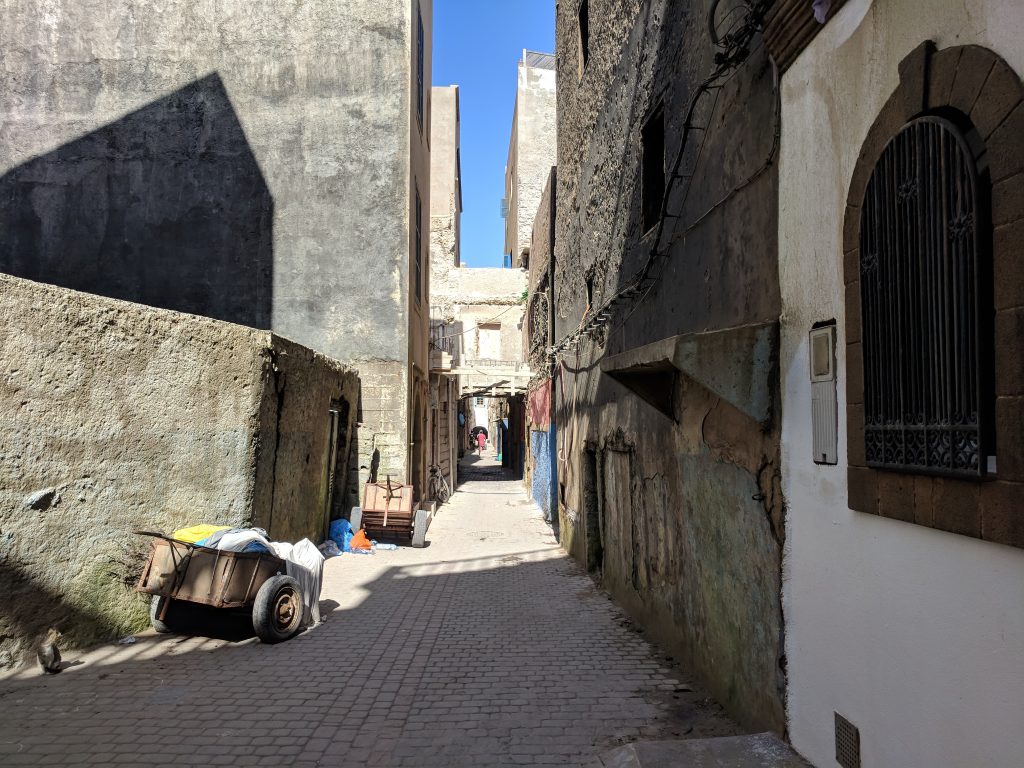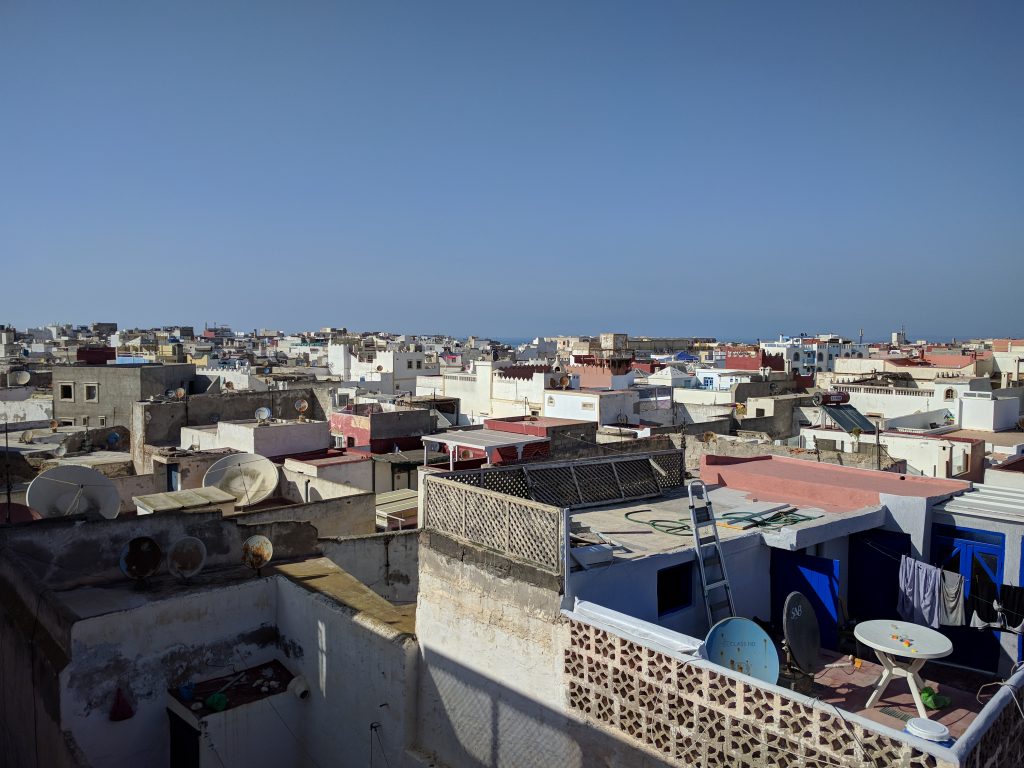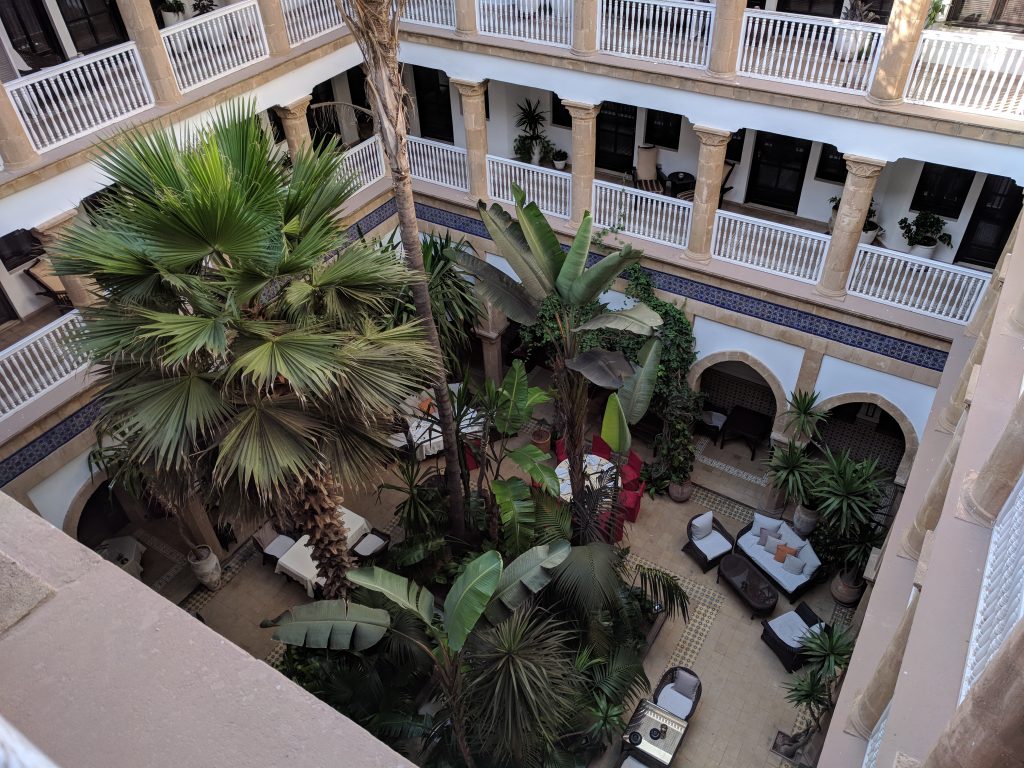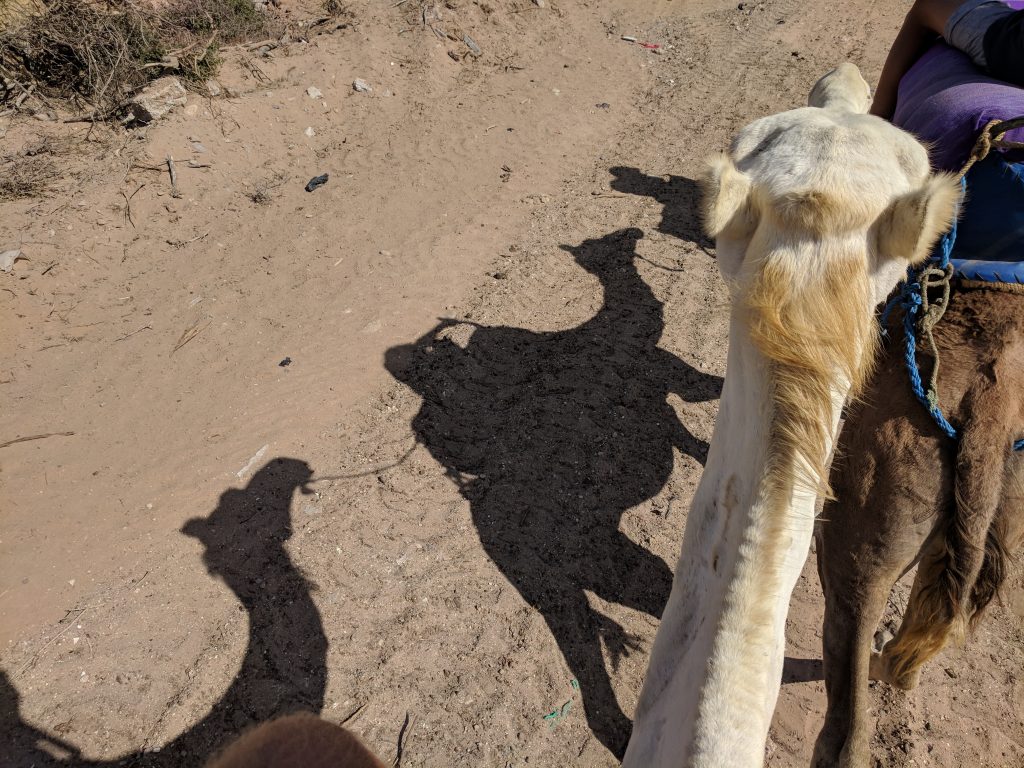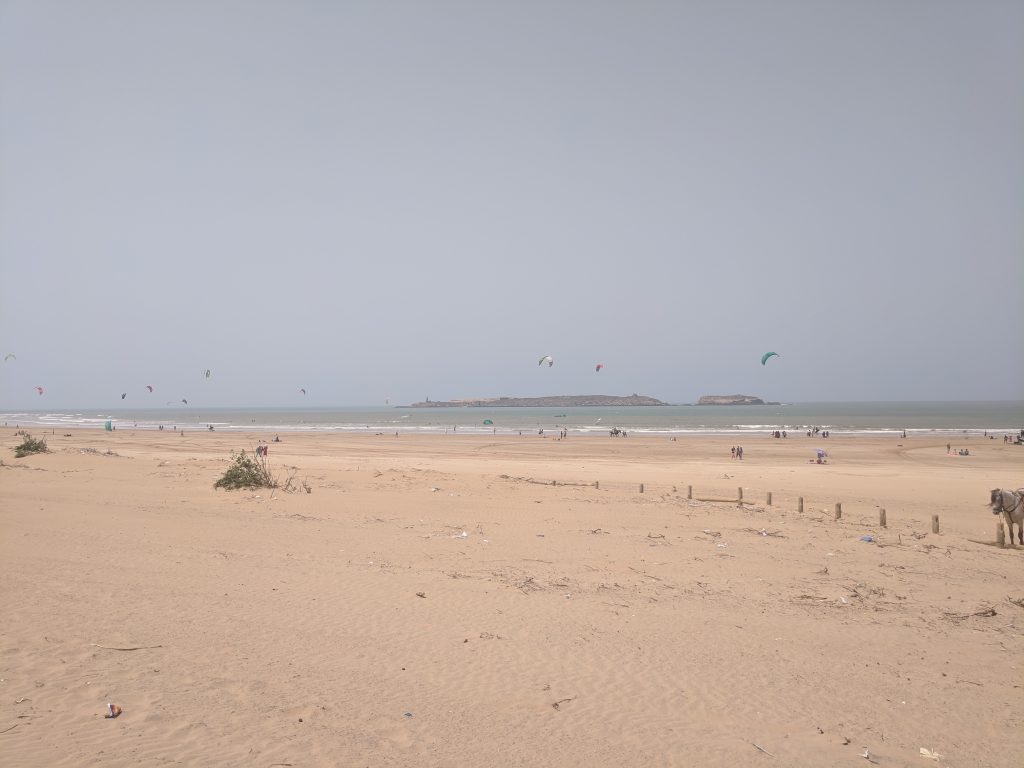 Tangier
Every journey ends at one point and we had to drive back to catch the ferry at the Port of Tangier Med. One last night in Tangier, one last swim in the Mediterranean Sea, one last tajine, one last stroll through the Medina and 2.5 days later we were back at home.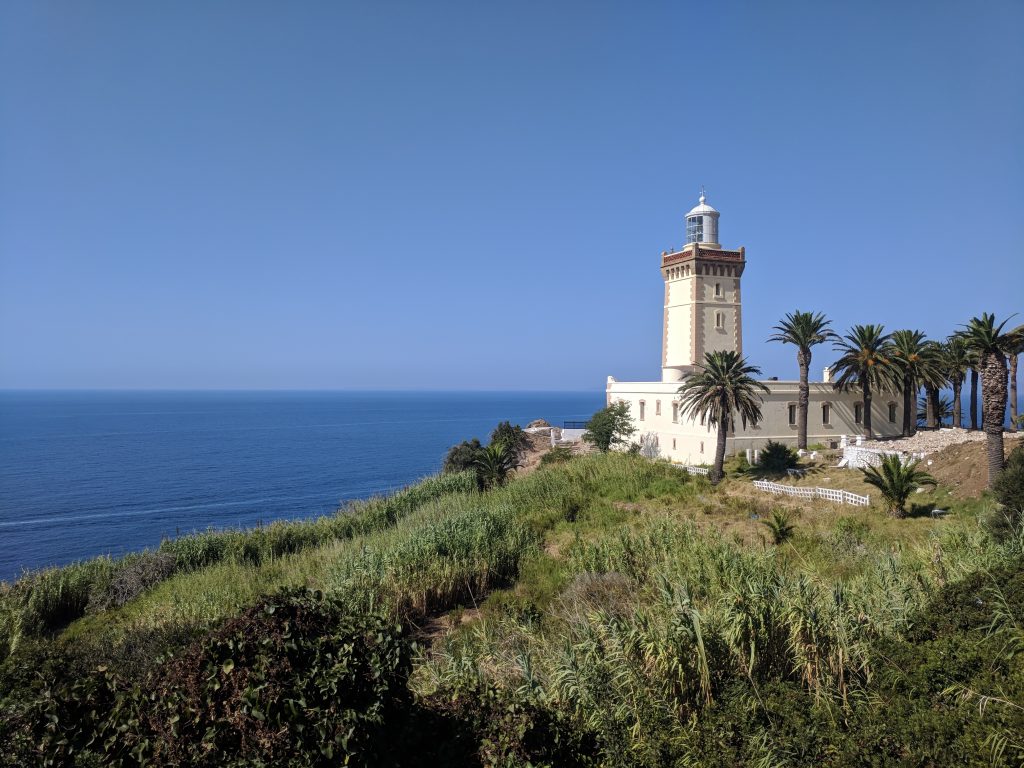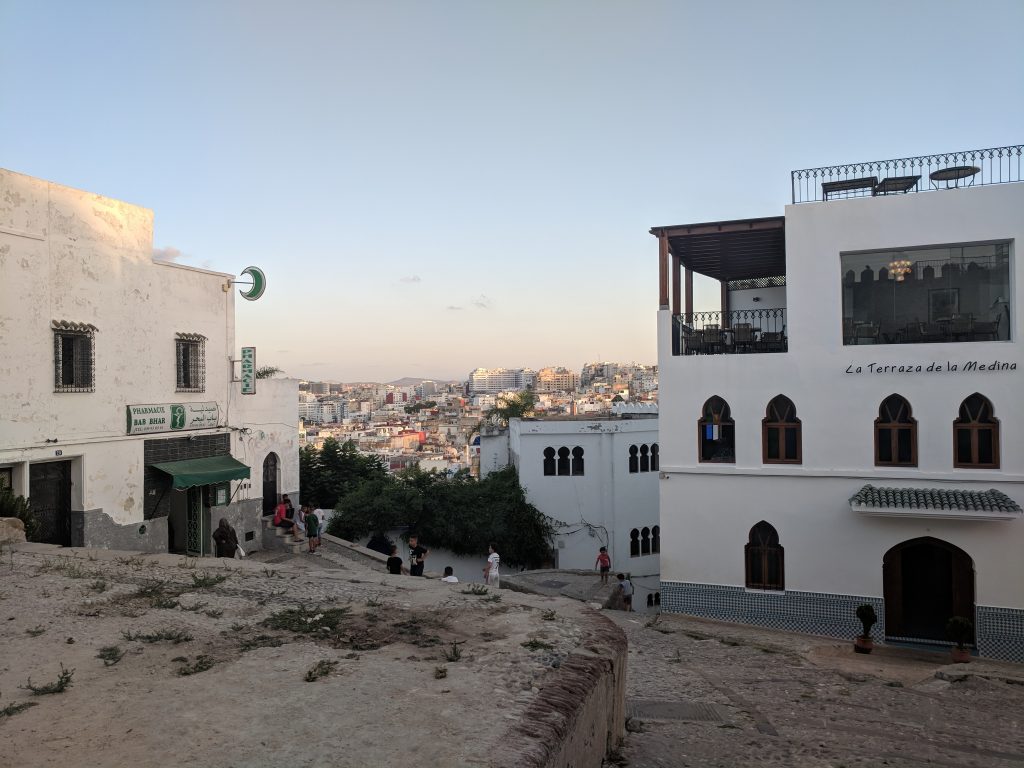 Just to clarify things. I'm not working for any of the above mentioned companies nor do I get any money or any other benefits from them. It's all my own opinion. If this changes I will state it clearly. Thanks for reading.